Who is Brian Walshe, husband of missing Cohasset woman Ana Walshe?
COHASSET, Massachusetts – Missing mom Ana Walshe vanished New Year's Day – and now her husband, Brian, has been charged with misleading investigators pursuing the case.
Prosecutors revealed at the 47-year-old's arraignment Monday that blood and a damaged knife were found in the basement of the family's Cohasset home.
After Ana Walshe, 39, didn't show up for work as a regional manager at real estate firm Tishman Speyer Jan. 4, the company notified police, prosecutors said.
Here is what we know about Brian Walshe:
MISSING ANA WALSHE: ROMANCE WITH BRIAN WALSHE WAS 'LOVE AT FIRST SIGHT'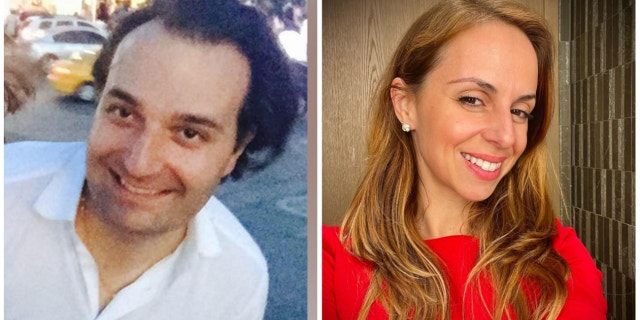 Ana Walshe vanished New Year's Day, and her husband, Brian Walshe, was arrested on Jan. 8, 2023, for misleading investigators.
(Ana Walshe/Facebook / Ana Walshe/Instagram)
What does Brian Walshe do for a living?
Brian Walshe was under house arrest awaiting sentencing for selling fake Andy Warhol paintings when his wife vanished.
On Walshe's LinkedIn profile, he lists three jobs – including chief financial officer of LETS: Leadership & Effective Teamwork Strategies and Capital Letters Consulting. Neither purported company appears to have a website.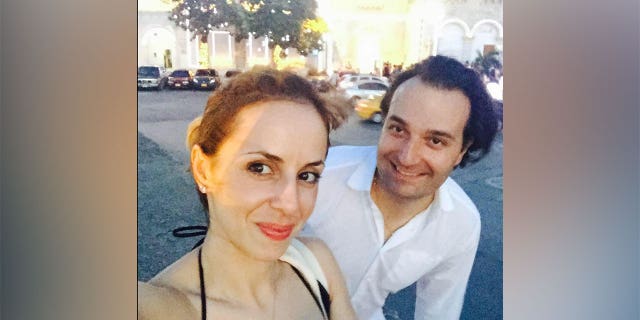 Brian and Ana Walshe seen in September 2016.
(Ana Walshe/Facebook)
Court papers in his federal art fraud case say he graduated from boarding school and attended Carnegie Mellon University but did not graduate.
TIMELINE OF ANA WALSHE'S DISAPPEARANCE AND BRIAN WALSHE'S ARREST
Marriage
Brian Walshe married Ana on Dec. 21, 2015, in a church in Boston in front of a few dozen family members and friends, according to a witness.
The pair met in 2008, and Ana described their chemistry as "love at first sight," in federal court papers.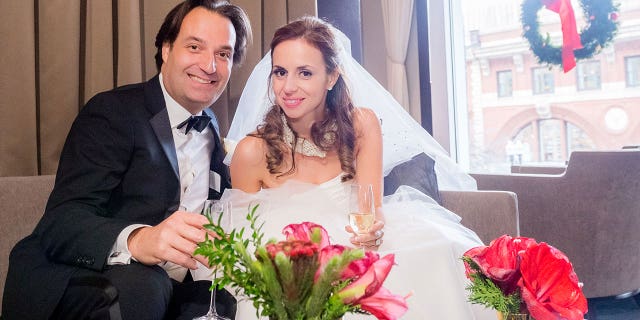 Brian and Ana Walshe raise a toast on their wedding day in Boston, Massachusetts on Monday, Dec. 21, 2015.
(Obtained by Fox News Digital)
The couple went on to have three boys who are now 2, 4 and 6, and Ana Walshe described her husband as a doting father.
Is Brian Walshe a sociopath?
Friends of Walshe's late neurologist father, Dr. Thomas Morecroft Walshe, characterized his son as a troubled sociopath in affidavits filed in Plymouth Probate Court.
Jeffrey Ornstein said the esteemed doctor confided in him that his son had been a long-term patient at Austen Riggs Center's psychiatric hospital, where he was "diagnosed as a sociopath."
ANA WALSHE'S HUSBAND BRIAN WALSHE IS A 'SOCIOPATH' AND 'PHYSICALLY VIOLENT:' COURT DOCS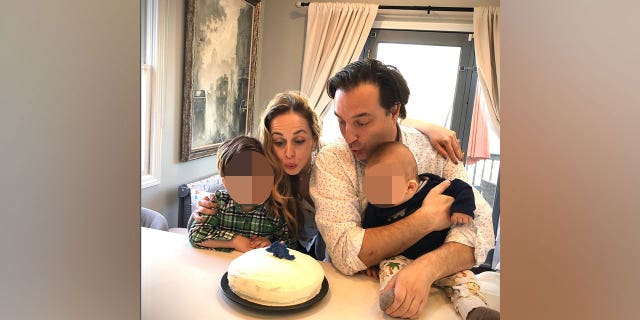 Ana and Brian Walshe blow out candles on a birthday cake with their children in an April 2020 Instagram post.
(Ana Walshe/Instagram)
Dr. Fred Pescatore, another close friend of the elder Walshe, described his son as a "sociopath" who was also a "very angry and physically violent person."
In 2014, Ana Walshe called 911 on her soon-to-be-husband, and reported that he had threatened to kill her and her friends. The case was closed after she refused to cooperate with prosecutors.
Andy Warhol swindle
Brian Walshe pleaded guilty in April 2021 to selling fake 1978 Andy Warhol paintings to an art dealer in California and a buyer in France.
He had stolen the originals from a college friend and then had prints made that he tried to pass off as authentic.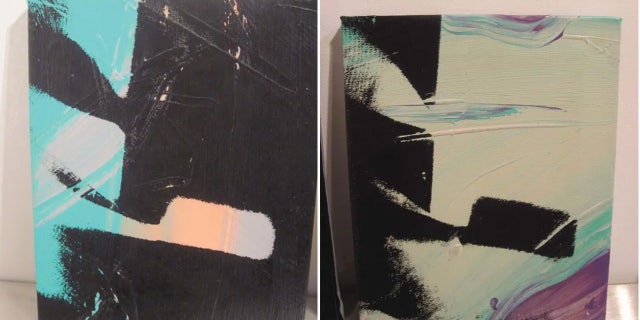 The fake Andy Warhols that Brian Walshe allegedly sold an art dealer in California.
(Department of Justice)
A Boston judge nearly gave him a no-jail sentence for the brazen art swindle until it emerged that he may have embezzled money from his late father's estate.
Father's will: 'My best wishes but nothing else'
After allegedly destroying a signed will that left him "my best wishes but nothing else," Brian Walshe quietly had himself appointed as the representative of his father's estate and sold off his belongings, according to court papers.
He allegedly ended up with more than $100,000 from his father's bank accounts and raked in additional cash from the sale of valuable household items, including Joan Miro and Salvador Dali paintings, oriental rugs and even a car.
A copy of the will emerged and Brian Walshe was removed as executor before he could sell off his father's real estate.
Walshe allegedly stole $1 million from his father more than a decade before his 2018 death, which led to their estrangement, according to court filings.
Brian's story doesn't add up: state prosecutors
Brian Walshe was arraigned Monday in Quincy District Court for misleading investigators about his whereabouts after the disappearance of his wife and was ordered held on $500,000 cash bail.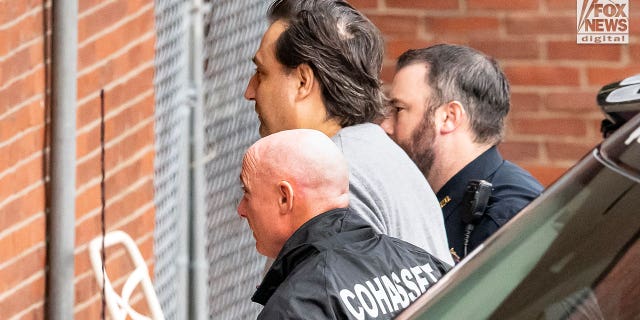 Brian Walshe arrives at Quincy District Court in Massachusetts on Monday, Jan. 9, 2023, for his arraignment on a charge he misled investigators.
(David McGlynn for Fox News Digital)
He allegedly told police that his wife had an emergency work meeting in Washington, D.C., and left their Cohasset home in a ride-share early on New Year's Day to catch a flight.
MISSING MASSACHUSETTS WOMAN ANA WALSHE'S MOTHER BREAKS SILENCE: 'CLEARLY, THERE MUST HAVE BEEN SOME PROBLEMS'
But prosecutors said there was no record of her taking a ride-share and her cellphone pinged twice off a tower near their house on Jan. 1 and 2nd after he said she'd left for the airport.
He claimed he ran errands for his mother at Whole Foods and CVS the next day — but police said he didn't appear on any surveillance video at the stores.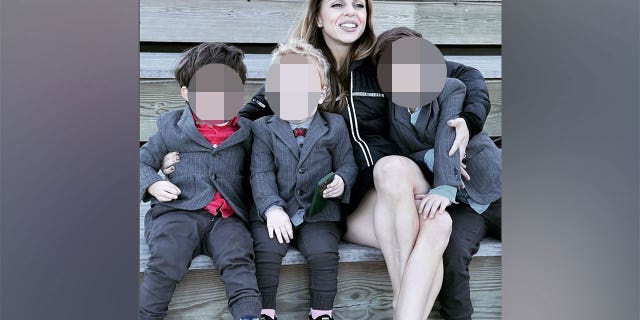 Ana Walshe holds her three children in an October 2022 Instagram post.
(Ana Walshe/Instagram)
Brian Walshe failed to mention to investigators that he traveled to Home Depot Jan. 2 and paid $450 in cash for cleaning supplies. The trip was in violation of the conditions of his house arrest, according to police.
CNN reported that Brian Walshe had conducted internet searches on how to dispose of a 115-pound woman and how to dismember a body, citing law enforcement sources.
High-powered lawyer
Brian Walshe has retained attorney Tracey Miner to represent him on the latest charge of misleading investigators.
CLICK HERE TO GET THE FOX NEWS APP
Miner, a prominent attorney in Boston, also represented Gordon"Gordie" Ernst in the "Varsity Blues" college admissions scandal and a former FBI agent who was convicted of aiding crime boss James "Whitey" Bulger.
She didn't immediately return a request for comment.
Rebecca Rosenberg is a veteran journalist and book author with a focus on crime and criminal justice. Email tips to rebecca.rosenberg@fox.com and @ReRosenberg.
I have been writing professionally for over 20 years and have a deep understanding of the psychological and emotional elements that affect people. I'm an experienced ghostwriter and editor, as well as an award-winning author of five novels.