Tennessee GOP rep abruptly exits CNN interview after host berates him for expelling lawmakers
After being lectured by a CNN correspondent over moving to expel Democrats from the Tennessee state legislature, Tennessee Republican Caucus Chair Rep. Jeremy Faison chair abruptly exited his interview, leaving CNN anchors bewildered.
Prior to his unexpected departure, CNN reporter Sara Sidner had disputed his claims that the two Democratic Party lawmakers the legislature expelled Thursday were "riling up" an angry pro-gun control crowd at the state capitol.
Sidner claimed the massive and angry crowd was already riled up and then accused the lawmaker of punishing the Democrat lawmakers and their voters, who she claimed are scared of gun violence.
NASHVILLE POLICE FIND SUICIDE NOTE, YEARBOOKS, WEAPONS, AMMO AT SCHOOL SHOOTER AUDREY HALE'S HOME: REPORT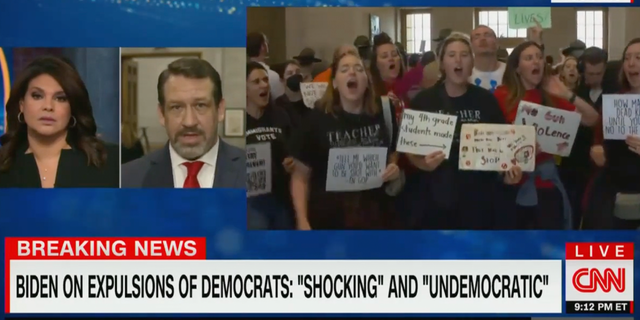 CNN reporter Sara Sidner and Tennessee GOP Rep. Jeremy Faison spar over expulsion of Democrats from the Tennessee state legislature. (Screenshot/CNN)
The lecture from the reporter appeared to bother Faison, as he left the interview before CNN anchor Kaitlan Collins could ask him a question.
The tense exchange came after the Tennessee GOP-dominated House voted to expel Democratic Representatives Justin Jones and Justin Pearson from the state legislature Thursday for their role in a protest calling for gun control following last week's shooting at a private Christian school in Nashville.
A third Democrat lawmaker, Rep. Gloria Johnson, was nearly expelled, though she was spared by one vote.
During their interview, Sidner appeared to go to bat for the punished lawmakers and the throngs of gun control activists swarming the Tennessee capitol. She stated, "You mentioned that you thought that the representatives were riling up the crowd, and I can tell you from the reporters that were out there, the crowd was already riled up."
After disputing Faison, Sidner alleged to the lawmaker that the crowd was "extremely upset that your legislature wasn't trying to deal with the issue of keeping children safe in school but instead going after these two Democrats."
Her sharp line of questioning continued: "And I wonder, sir, who are you punishing? Because yes, you have kicked out these two Democrats, but there are tens of thousands of constituents that are also being punished and don't have any representation right now. What do you say to them?"
NASHVILLE KILLER AUDREY HALE SLEPT WITH JOURNALS ON SCHOOL SHOOTINGS UNDER BED, COURT DOCS REVEAL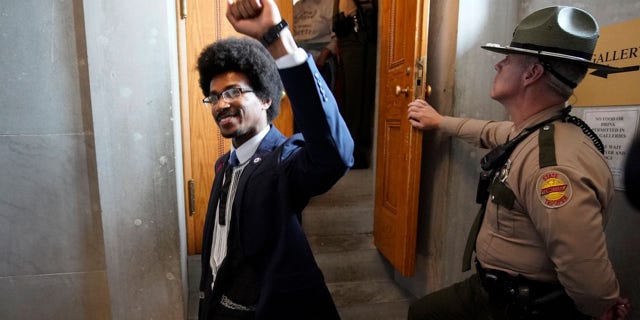 FILE: Rep. Justin Pearson, D-Memphis, raises his fist after visiting with supporters in the gallery of the House chamber Thursday, April 6, 2023, in Nashville, Tenn. (AP Photo/George Walker IV)
When Faison finally had a chance to respond, he rebutted her claim that the crowd was already riled up. He said, "I'd like you to go back and watch what took place today. They literally controlled the crowd. They controlled the protestors."
Re-enacting the hand signals he claimed the representatives gave the crowd, he said, "They look at 'em, they do their hand like this. They do their hand like this. It's like leading a choir."
Faison then blasted Sidner, saying, "So the notion that you think that they weren't getting the people incited and worked up into a frenzy? Unfortunately, you weren't here. You didn't see it. That's exactly what they did."
Sidner continued to forcefully dispute Faison's claims, saying, "Our reporters were there and they talked to some of them. And some of them were teachers, who were so distraught, they were near tears because they could not believe that their lawmakers were doing this, as opposed to dealing with the biggest issue at hand – the number one killer of children is gun violence."
She added, "And they wanted y'all to do something about that instead of wasting time – in their mind – when it comes to this."
Again, Faison repeated his perspective of what happened Thursday. He said, "So, I'm sure that's what you think. But we watched them today, directing him like a choir leader would. That was what was amazing."
Before storming off, the lawmaker added, "And I'll tell you this – and unfortunately, I've got to go, I'm 3 and a half hours from home. it's not possible for us to move forward with the way they were behaving in committee and on the House floor. There's got to be some peace."
CLICK HERE TO GET THE FOX NEWS APP
"The conversation can't happen because they're sucking all the air out of the room. So I would just push back on you saying we can't get there if they won't let us," he declared.
He then thanked CNN and walked offscreen as Collins clamored to ask him one more question. He was gone before she could get to it.
Gabriel Hays is an associate editor for Fox News Digital.
I have been writing professionally for over 20 years and have a deep understanding of the psychological and emotional elements that affect people. I'm an experienced ghostwriter and editor, as well as an award-winning author of five novels.