Squad member Ayanna Pressley opposes committee on China for fear of racism: 'Embolden anti-Asian rhetoric'
"The Squad" member Rep. Ayanna Pressley, D-Mass., said Thursday she was one of the few House members who voted against a select committee to examine U.S. competition with China for fear it would embolden racists.
Pressley told CNN anchor Kaitlan Collins that she voted against its formation in order to fight back "anti-Asian rhetoric and hate" she claims could be inspired by such a committee.
The congresswoman was one of only 65 members of the House of Representatives who voted against the China committee on Tuesday. Support for it was largely bipartisan, with 365 members voting "Yes," including all Republican congressmen and over two-thirds of House Democrats.
HOUSE PASSES NEW RULES FOR CONGRESS AS MCCARTHY CLEARS FIRST MAJOR TEST AS HOUSE SPEAKER
Rep. Ayanna Pressley, D-Mass., said Tuesday that she voted against forming a committee to assess China's competition with the U.S. because she feared it would foment hate against Asians.
(Screenshot/CNN)
Fox News Digital reported the new select committee was proposed "to examine U.S. strategic competition with China." Remarking on the need for the committee, House Speaker Kevin McCarthy, R-Calif., stated Tuesday, "We spent decades passing policies that welcomed China into the global system. In return, China has exported oppression, aggression and anti-Americanism. Today, the power of its military and economy are growing at the expense of freedom and democracy worldwide."
But Pressley was against it for fear of racism.
"I voted no because, again, it's another sham effort here, it's really clear that this is just a committee that would further embolden anti-Asian rhetoric and hate and put lives at risk," Pressley said.
The member of the far-left "Squad" added the U.S. government has "enough infrastructure in governance to tackle those issues and we don't need the select committee. And that is why I voted no, because I am afraid that it will embolden anti-Asian rhetoric and hate."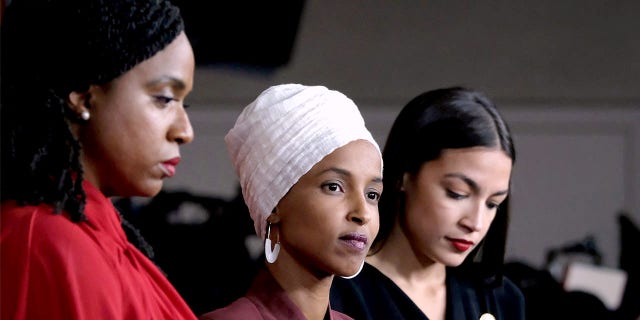 U.S. Reps. Ayanna Pressley (D-MA), Ilhan Omar (D-MN) and Alexandria Ocasio-Cortez (D-NY) listen during a news conference at the U.S. Capitol on July 15, 2019 in Washington, D.C.
(Alex Wroblewski/Getty Images)
REP DONALDS SAYS MCCARTHY AND GOP WILL PROBE CHINESE COMMUNIST PARTY INFLUENCE ON US
When asked if the "146 Democrats who voted yes on it are wrong in their votes," she replied, "We just see it differently."
Other Democratic lawmakers voiced their concern about the committee inspiring anti-Asian rhetoric. Top Democrat on the House Rules Committee, Rep. Jim McGovern, D-Mass., warned the committee to be careful to avoid such discrimination.
"President [Donald] Trump repeatedly mislabeled COVID with racist language. Such rhetoric coincided with spikes in hate-based acts of violence and discrimination against people of Chinese or Asian origin across our country. This language has no place on this committee or anywhere in Congress," he said.
CLICK HERE TO GET THE FOX NEWS APP
Unlike Pressley, McGovern ultimately voted "Yes" on the formation of the committee despite his concerns. He announced, "While I do have concerns here, after reading the resolution itself, I will be voting 'yes.' The Democratic Party has led the way in implementing efforts to monitor China's compliance with international human rights and rule of law standards, and we will continue to do so here."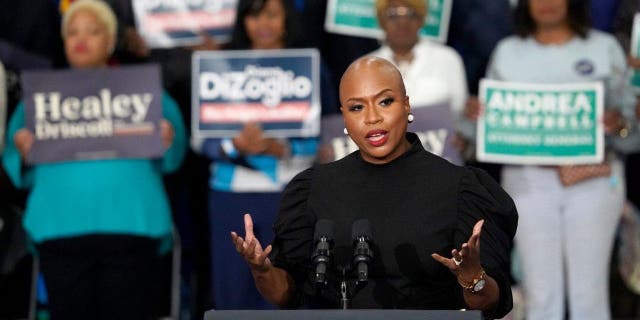 Rep. Ayanna Pressley, D-Mass., speaks during a campaign rally in support of the statewide Massachusetts Democratic ticket, Wednesday, Nov. 2, 2022, in Boston. (AP Photo/Mary Schwalm)
(AP Photo/Mary Schwalm)
Gabriel Hays is an associate editor for Fox News Digital.
I have been writing professionally for over 20 years and have a deep understanding of the psychological and emotional elements that affect people. I'm an experienced ghostwriter and editor, as well as an award-winning author of five novels.