Republicans grill Labor Dept on farm worker visas, as official warns of 'terrible' conditions
Republicans in the House and Senate are questioning reported processing delays in the H-2A agricultural worker visa program — and asking if it is related to comments made by a Labor Department official they said may show "bias" against the controversial program.
On Thursday, Committee on Education and the Workforce Chairman Virginia Foxx and Workforce Protection Subcommittee Chairman Kevin Kiley wrote to Acting Labor Secretary Julie Su raising concerns that employers applying for labor certifications for H-2A visas — which are for agricultural workers — are facing "substantial delays."
"For many farmers and ranchers, especially those with perishable crops, timely processing of applications at DOL and timely arrivals of guest workers are crucial. The planting and harvesting windows offer only a short amount of time to meet the season's needs. Our understanding is that this worsening problem is caused by unnecessary and avoidable delays at DOL," they say.
The lawmakers note a letter sent to Su earlier this month from Sens. Bill Cassidy, R-La., Ranking member of the Senate Health, Education, Labor and Pensions Committee, which noted comments by a regional agriculture enforcement coordinator at DOL's Wage and Hour Division in a news article.
US AGENCY RAISES 'SERIOUS CONCERNS' ABOUT TECH VISA LOTTERY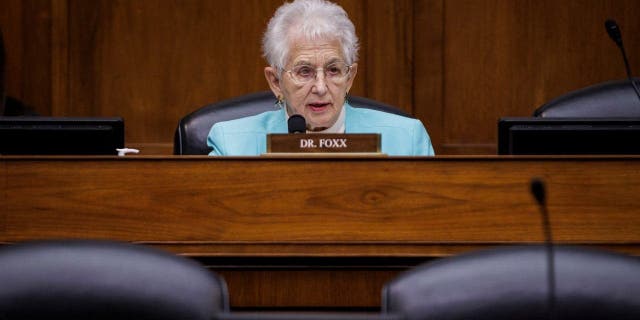 Representative Virginia Foxx, a Republican from North Carolina, speaks during a hearing in Washington, D.C, on Sept. 29, 2022. (Samuel Corum/Bloomberg via Getty Images)
In the article for PRISM, Mike Rios is quoted as saying that the H-2A program "literally is the purchase of humans to perform difficult work under terrible conditions, sometimes including subhuman living conditions."
Rios is also quoted as saying: "You can throw a rock and hit a violation in the agricultural industry."
The comments are a repeat of long-standing concerns that critics of the program have expressed, arguing that temporary visa programs are often accompanied by exploitation and abuse. Supporters of the program say they are needed to tackle worker shortages.
Foxx and Kiley say the comments are "disturbing and puzzling" as the laws and regulations DOL enforces are supposed to prevent such conditions — including those governing wages must pay those who are employed under the program.
BIDEN ADMIN MULLS MOVE TO OPEN PATHWAYS TO GREEN CARDS FOR TEMPORARY AGRICULTURAL, SEASONAL MIGRANT WORKERS
"The clear bias against farmers expressed in Mr. Rios' quotes raises the question of whether DOL may be purposely delaying the processing of H-2A labor certification applications because of hostility to the H-2A program and to the agricultural employers who participate in the program," they write.
Their comments echo those of the letter sent by Sen. Cassidy.
"If the officials tasked with enforcing the H-2A program believe the system amounts to 'wage theft' and 'the purchase of humans to perform difficult work under terrible conditions,' then either DOL is currently unable to competently enforce the law or these statements reflect a startling bias against American farmers who use the program," he wrote.
Foxx and Kiley ask the DOL for data on H-2A certifications, the reason for delays in processing, steps it has taken to address the delays and any additional steps it has planned.
In a statement to Fox News Digital, a spokesperson said that the views referenced in the letter "do not reflect those of the Department and we are committed to a fair and unbiased enforcement of the law."
CLICK HERE TO GET THE FOX NEWS APP
"The H-2A visa program performs an important role in our economy by providing a vital workforce for the essential agricultural industry when U.S. workers are not available," the spokesperson said.
"The Department of Labor's role under the H-2A program is to effectively implement this program, which includes protecting worker's rights and ensuring a level-playing field for law-abiding employers," the spokesperson said. "To be clear: workers should always be treated with dignity and respect. H-2A includes worker protection provisions that are enforced by the Department of Labor to combat against exploitative labor practices."
The spokesperson went on to say that the agency is "laser-focused" on ensuring that applications are processed in a timely manner "so that eligible U.S. employers are able to hire H-2A workers for agricultural needs when U.S. workers are not available."
Adam Shaw is a politics reporter for Fox News Digital, primarily covering immigration and border security.
He can be reached at adam.shaw2@fox.com or on Twitter.
I have been writing professionally for over 20 years and have a deep understanding of the psychological and emotional elements that affect people. I'm an experienced ghostwriter and editor, as well as an award-winning author of five novels.