Pence disagrees with Haley on competency tests: 'American people can sort that out'
Former Vice President Mike Pence disagrees with former United Nations Ambassador Nikki Haley's stance on competency tests for politicians over the age of 75.
In an interview with CBS New that aired Wednesday, the former Indiana governor said it should be up to the American people – and that the history of the country proves the "wisdom and common sense and judgment of the American people."
"I come from southern Indiana, where people think most politicians should have a competency test," he joked, laughing.
"No, I think the American people can sort that out. I really do," Pence, 63, said.
NIKKI HALEY TWEETS COVID 'LIKELY' CAME FROM CHINESE LAB, PLEDGES TO CUT US AID IF ELECTED PRESIDENT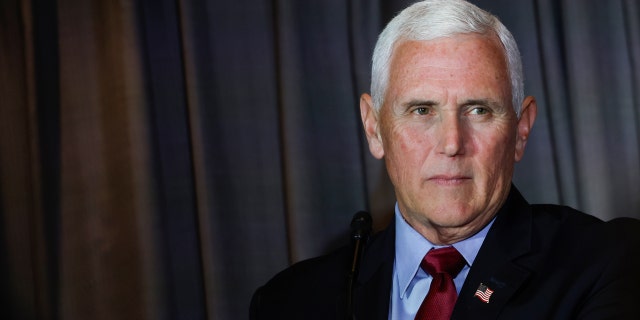 Former Vice President Mike Pence speaks at the Calvin Coolidge Foundation conference at the Library of Congress on Feb. 16, 2023, in Washington, D.C. ((Photo by Anna Moneymaker/Getty Images))
Haley – who announced her candidacy for president in the 2024 race last month – made headlines after she called for the "mental competency tests" at a rally in South Carolina.
Notably, President Biden turned 80 in November. Former President Trump is 76 years old.
A Fox News Poll conducted in late February found that, overall, 77% of Americans favor requiring such tests.
FOX NEWS POLL: TRUMP, DESANTIS TOP 2024 REPUBLICAN PREFERENCE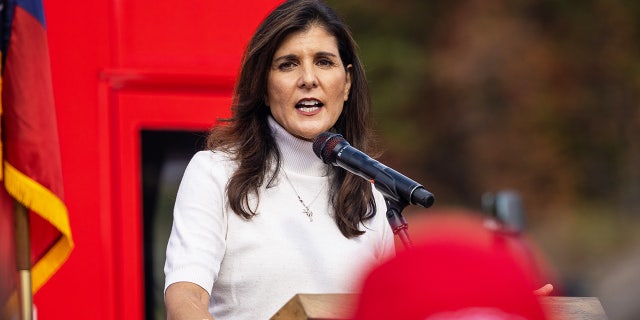 Former UN Ambassador Nikki Haley speaks at a rally for Georgia Senate candidate Herschel Walker in Hiram, Georgia on Nov. 6, 2022. (Nathan Posner/Anadolu Agency via Getty Images)
More Millennials (83%) and Gen Xers (84%) want the tests than Baby Boomers (66%), and more Republicans (87%) and independents (74%) favor them than Democrats (67%).
Pence, whose name has also been brought up as a potential GOP candidate, said he would have a decision on the matter this spring.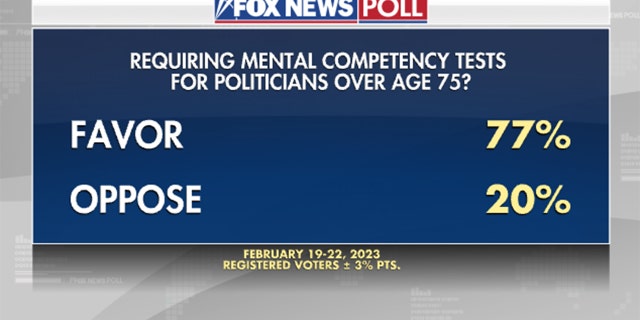 Fox News poll indicates whether voters believe mental competency tests should be required for politicians over age 75. (Fox News Polls)
He would not say whether he would back Trump, noting that different times call for different leadership and that he believed there would be better choices in 2024.
CLICK HERE TO GET THE FOX NEWS APP
When asked about concerns regarding President Biden's fitness for office, Pence replied that his problems with the Democrat "are the failures of his policies at home and abroad."
Julia Musto is a reporter for Fox News and Fox Business Digital.
I have been writing professionally for over 20 years and have a deep understanding of the psychological and emotional elements that affect people. I'm an experienced ghostwriter and editor, as well as an award-winning author of five novels.