Natalee Holloway suspect Joran van der Sloot's Peru prison on lockdown, complicating extradition, lawyer says
MOUNTAIN BROOK, Ala. – EXCLUSIVE: A prison "incident" at a mountaintop penitentiary in Peru has prevented Joran van der Sloot's lawyer from speaking with him for nearly a week after news broke he would be extradited to the U.S. to face federal charges.
Lawyer Maximo Altez told Fox News Digital that a lockdown there has cut off the inmates' access to phones or any other type of communication other than in-person meetings.
As a result, Altez said he had not spoken with van der Sloot yet, and without the official go-ahead from his client, has not filed a habeas corpus petition that could "paralyze" his pending extradition to the United States on federal extortion charges.
Van der Sloot, 36, is the prime suspect in the 2005 disappearance of Alabama teen Natalee Holloway in Aruba. While he was never charged, in 2010 he allegedly took $25,000 in down payments from her family in exchange for the false location of her remains – and has been accused of extortion and wire fraud in the Northern District of Alabama.
NATALEE HOLLOWAY CASE: EXTRADITION OF 'MURDEROUS' JORAN VAN DER SLOOT COULD STALL FOR MONTHS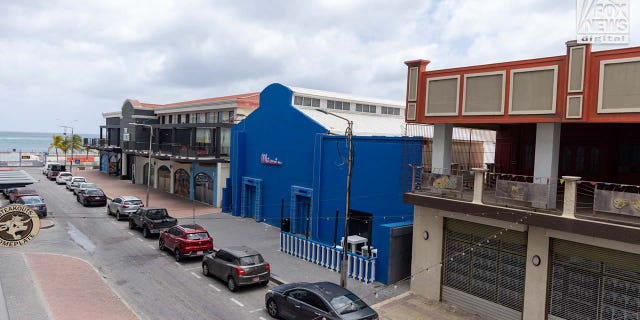 The blue building on the right was the site of the bar known as Carlos 'N Charlie's in Oranjestad, Aruba, where Natalee Holloway was last seen on May 30, 2005 leaving with Joran van der Sloot. (Mega for Fox News Digital)
In 2014, Altez told Reuters that his client had been stabbed three times in the prison months after his initial transfer there for unruly behavior. However, officials told the outlet that the wounds looked self-inflicted.
While van der Sloot previously said publicly that he would fight any move to send him to the U.S., Altez told Fox News Digital that his client's family believes that he would be better off jailed in Alabama than Peru's strictest maximum security prison.
NATALEE HOLLOWAY SUSPECT JORAN VAN DER SLOOT GETTING DIVORCED AFTER PRISON DRUG SMUGGLING SCANDAL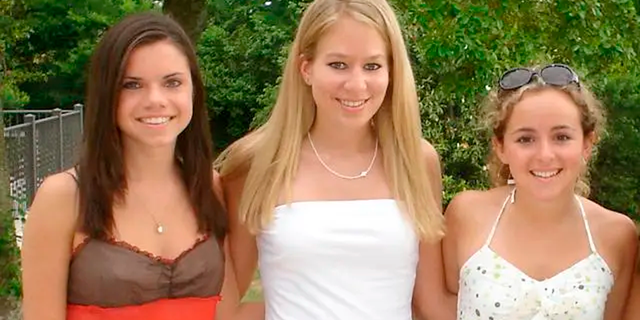 Natalee Hollway, center, went missing during a spring break trip in 2005 and was never found. (FBI)
"The Challapalca prison is the worst prison in the world", Altez told Fox News Digital previously. "Joran is in hell. He would go to a hell that is more comfortable."
In Challapalca, van der Sloot has run into a series of disciplinary repercussions, Altez said Tuesday — and that was after being sent there for trafficking drugs and a cellphone into his previous lockup.
Altez said he planned to go to Challapalca in person as early as Tuesday to discuss filing the petition face-to-face with van der Sloot.
NATALEE HOLLOWAY CASE: JORAN VAN DER SLOOT'S LAWYER FEARS ADDITIONAL US CHARGES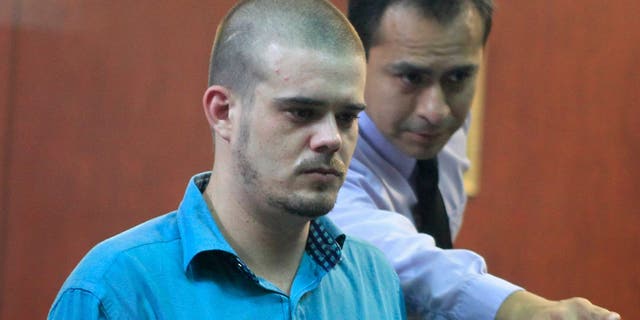 A man directs Dutch citizen Joran Van der Sloot to his seat before the trial in the Lurigancho prison in Lima Jan. 11, 2012. Van der Sloot, who was arrested but never charged in the 2005 disappearance of 18-year-old Alabama native Natalee Holloway in Aruba, killed 21-year-old business student Stephany Flores after meeting her in a casino in Lima, Peru. (REUTERS/Pilar Olivares)
He could not go to the remote facility in person Monday because he was due in court on another client's case, he said.
If van der Sloot decides not to fight extradition, then he will undergo a medical examination and the rest is "solely administrative," Altez said.
NATALEE HOLLOWAY, SUSPECT JORAN VAN DER SLOOT: TIMELINE OF ALABAMA TEEN'S DEATH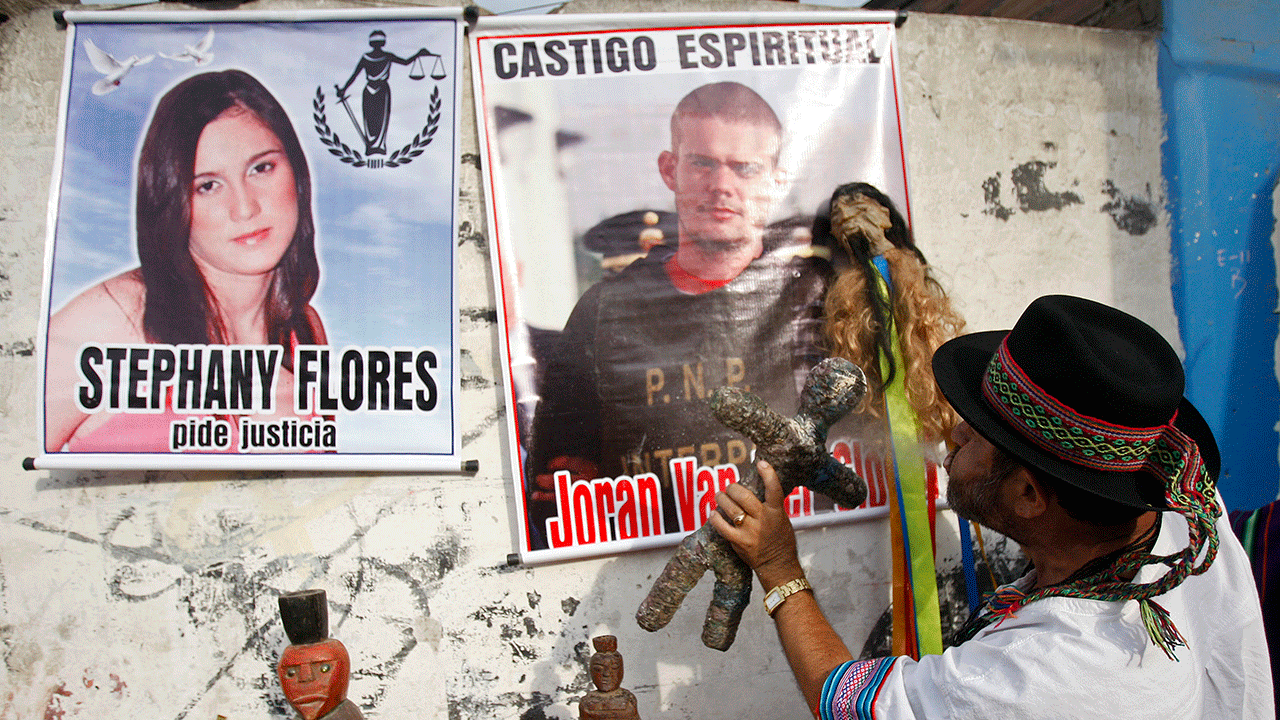 A shaman spits water on a poster of Joran van der Sloot outside San Pedro prison in Lima, Peru, Jan. 6, 2012. The poster of Stephany Flores, left, reads in Spanish "Stephany Flores asks for justice" and the poster of van der Sloot reads "Spiritual punishment." In 2012, van der Sloot was sentenced to 28 years in prison for the Flores killing. (AP Photo/Karel Navarro)
Once he is clear, according to Altez, U.S. Marshals will be in charge of his transport to American soil. The Marshals have not responded to requests for comment.
Under the terms of a Peruvian government order, U.S. officials must formally agree to return van der Sloot to the South American country to finish his murder sentence for the slaying of Stephany Flores in 2010, Col. Carlos López Aeda, the chief of Interpol in Lima, Peru, told Fox News Digital earlier.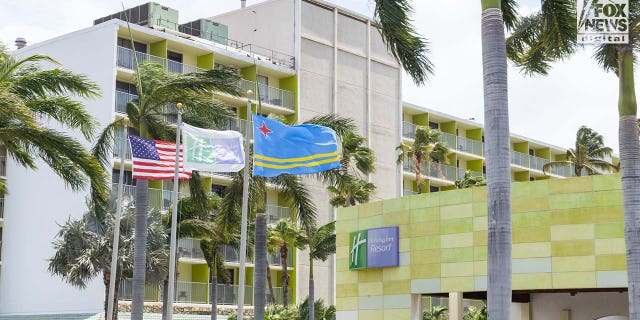 A general view of the Holiday Inn resort in Noord, Aruba, Friday, May 12, 2023. The Holiday Inn resort is where Natalee Holloway stayed in 2005 before she disappeared. (Mega for Fox News Digital)
Once the formal agreement is in place, extradition could come within days — but it could face delays until August at the latest, he said.
The U.S. had 30 days from Friday to agree to Peru's terms.
Van der Sloot will either be flown to Alabama on a U.S. government plane or escorted by Marshals on a commercial flight, López Aeda said.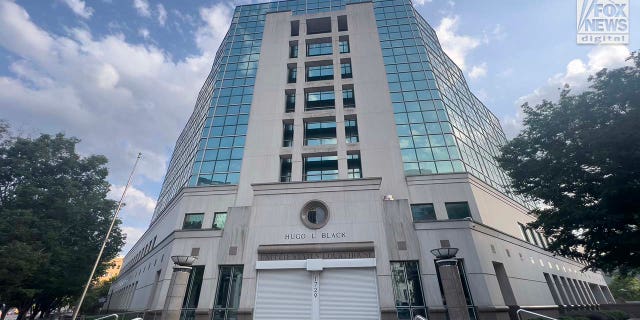 The Hugo L. Black United States Courthouse in Birmingham, Alabama on Thursday, May 11, 2023. Joran van der Sloot, the Dutch man suspected in the 2005 disappearance of Alabama teen Natalee Holloway, will be extradited from Peru to face extortion and wire fraud charges here in connection with a quarter-million dollar plot targeting Holloway's mother. (Dana Mixer for Fox News Digital)
CLICK HERE TO GET THE FOX NEWS APP
Van der Sloot is facing federal charges of extortion and wire fraud for allegedly selling fake information about the location of Holloway's remains to her mother in a $250,000 plot in 2010.
Van der Sloot already has a federal public defender in Birmingham. If convicted there, he would return to Peru to finish his sentence there before again coming to the U.S. to serve up to 40 years in federal prison.
Currently, his Peru sentence runs through June 2038.
Michael Ruiz is a reporter for Fox News Digital. Story tips can be sent to michael.ruiz@fox.com and on Twitter: @mikerreports
I have been writing professionally for over 20 years and have a deep understanding of the psychological and emotional elements that affect people. I'm an experienced ghostwriter and editor, as well as an award-winning author of five novels.