Murdaughs reach settlement with family of Mallory Beach, who died in fatal 2019 Murdaugh boat crash
The family of Mallory Beach, a 19-year-old South Carolina girl who died in a fatal crash onboard a boat belonging to the Murdaugh family in 2019, has reached a settlement two members of the Murdaugh family.
The Beach family on Tuesday settled with Buster Murdaugh, 26, the only living son of disgraced South Carolina lawyer Alex Murdaugh, 54, as well as the estate of Alex Murdaugh's deceased wife, Maggie Murdaugh. Alex Murdaugh is accused of murdering Maggie, then 52, and Paul, then 22, in June 2021.
"The Beach family feels very strongly that whatever their faults were, Paul and Maggie didn't deserve what happened to them," Beach family attorney Mark Brandon Tinsley told Fox News Digital about the settlement agreement. "They also feel Buster has suffered enough, so it was important to them to try and get him out of the case."
The two remaining defendants in the case are Alex Murdaugh and Parker's Kitchen, a convenience store where Paul, who was then underage, is believed to have purchased alcohol for the excursion. The settlement has yet to be finalized, but a hearing will be held on Jan. 19 to discuss the agreement.
MURDAUGH MURDERS: AG TO SEEK LIFE WITHOUT PAROLE AS JUDGE ORDERS STATE TURN OVER BLOOD-SPATTER ANALYSIS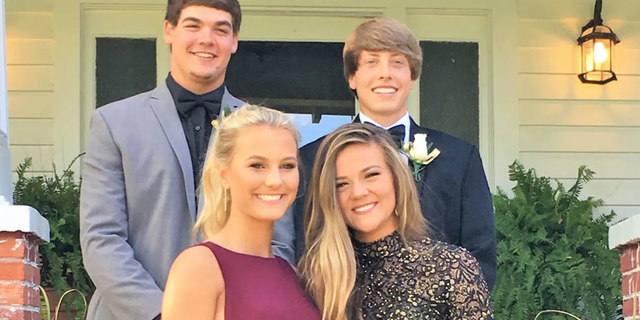 Clockwise from left: Anthony Cook, Connor Cook, Miley Altman and Mallory Beach. The friends were in boat with a drunken Paul Murdaugh when it crashed into a bridge killing Beach and injuring the other three.
(Facebook)
Mallory Beach died during an allegedly booze-fueled boating trip along the South Carolina coast in the Murdaugh family's boat, which Paul Murdaugh was driving at the time, before it crashed into a bridge near Parris Island, sending several passengers flying overboard. Beach never made it out of the water that night, and her body was found eight days later, about five miles from the crash site.
ALEX MURDAUGH CHARGED WITH TAX EVASION AHEAD OF SC MURDER TRIAL
Paul Murdaugh allegedly used a credit card belonging to his mother, Maggie Murdaugh, and ID belonging to elder brother Buster Murdaugh, to illegally purchase alcohol while underage from a convenience store owned by Parker's Corporation earlier that day. The boat Paul Murdaugh was driving that evening belonged partially to Maggie and partially to Alex Murdaugh, Tinsley explained.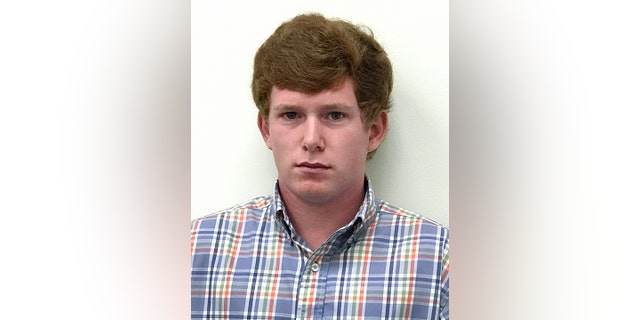 Paul Murdaugh's booking photo after his arrest for the 2019 boat crash that killed Mallory Beach.
(South Carolina Attorney General's Office/WTAT-TV/DT)
Renee Beach, Mallory's mother and personal representative of her daughter's estate, along with co-receivers Alex Murdaugh and John Murdaugh, will receive a $275,000 settlement from the sale of the Murdaugh family's nearly $4 million Moselle property across Hampton and Colleton Counties. Buster Murdaugh will receive $530,000 from his mother's estate once the property is sold, and attorneys fees will also be settled.
MURDAUGH DOUBLE MURDERS: SOUTH CAROLINA AG DROPS BOAT CRASH CHARGES AGAINST MAN KILLED BEFORE TRIAL
"The Co-Receivers have determined that the Settlement Agreement is reasonable and in the best interested of the Receivership as a whole," the settlement agreement states.
READ THE SETTLEMENT AGREEMENT:
Alex Murdaugh, a former defense attorney and assistant prosecutor from a prominent family that wielded power in the state's Low Country for a century, has been accused of confronting other injured teen passengers of the fatal 2019 boat crash at the hospital, telling them not to speak to law enforcement.
MURDAUGH DOUBLE MURDERS: SOUTH CAROLINA INVESTIGATORS RELEASE HARROWING 911 CALLS
He allegedly later launched a "whisper campaign" to make it seem like Connor Cook had crashed the boat, not his own son.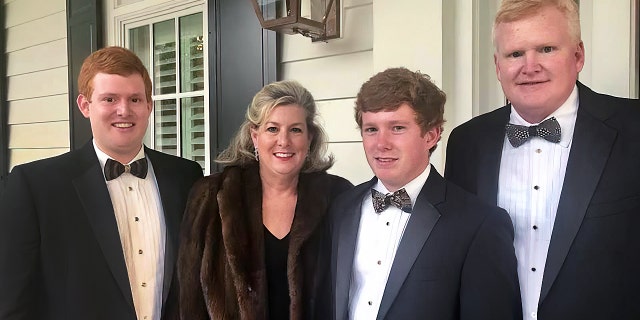 Alex Murdaugh, right, is shown here with his family. His former law firm filed a lawsuit Wednesday accusing him of using fake bank accounts to steal money from the firm and clients.
(Fox News)
CLICK HERE TO GET THE FOX NEWS APP
The former attorney faces a total of 99 financial criminal charges stemming from 19 indictments.
He has pleaded not guilty to the killing of his wife and younger son.
Audrey Conklin is a digital reporter for Fox News Digital and FOX Business. Email tips to audrey.conklin@fox.com or on Twitter at @audpants.
I have been writing professionally for over 20 years and have a deep understanding of the psychological and emotional elements that affect people. I'm an experienced ghostwriter and editor, as well as an award-winning author of five novels.