Lincoln Project advisor goes to MSNBC to blast Tim Scott as a 'racial security blanket,' 'pacifier' for GOP
The Lincoln Project senior advisor and so-called anti-Trump conservative Tara Setmayer leveled some heavy insults at Sen. Tim Scott, R-S.C., during a recent MSNBC broadcast.
Setmayer called the African American senator a "racial pacifier" and the GOP's "racial security blanket," implying that he is a token figure within the party to make Republicans look better on race issues.
Setmayer made her harsh comments on this week's episode of "The Saturday Show with Jonathan Capehart."
TIM SCOTT TAKING NEXT STEPS AS GOP SENATOR MOVES TOWARDS 2024 RUN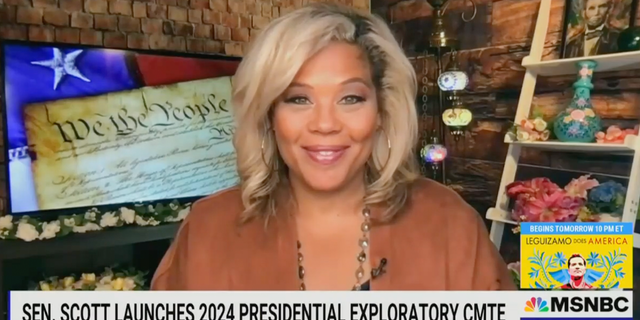 The Lincoln Projects Tara Setmayer blasted Sen. Tim Scott, R-S.C., on Saturday, calling him the GOPs "racial security blanket." (Screenshot/MSNBC)
Capehart brought up Scott during the broadcast, mentioning that he's a "fascinating" figure in that he is a Republican who is not "shy" talking about race.
Scott, who has launched a 2024 presidential exploratory committee in recent days, has talked about his own experience with being racially profiled, and has also spearheaded Republican legislative efforts on police reform.
Capehart told Setmayer, "I find Senator Scott fascinating, a Black Republican who isn't too shy in talking about race, but whose views on race can be problematic both within the GOP and in the general public. So, I mean, am I giving him too much credit?"
Out of the gate, the pundit replied with a cynical opinion about Scott's identity as a Black Republican. She stated, "Listen, Tim Scott, bless his heart, is trying to make a name for himself now, taking advantage of the fact that Republicans every election cycle need a racial pacifier. He's their racial security blanket in the race."
Setmayer added that Scott has been there to assert some semblance of diversity in the party, as former President Donald Trump and other GOP-ers have promoted the opposite.
"Given all of the context of what's gone on racially with Trump and Republicans over the last few years – and even after the 2012 election cycle when Republicans did that autopsy and found that they have got to diversify the tent if they want to survive as a party – well instead, they went in the complete opposite direction," she said.
2024 WATCH: TIM SCOTT SAY HE'S GETTING 'TREMENDOUS FEEDBACK' SO FAR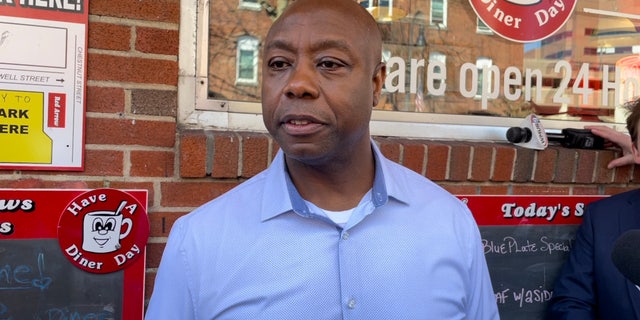 Sen. Tim Scott of South Carolina speaks with reporters after a stop at the Red Arrow Diner in Manchester, New Hampshire, on April 13, 2023 (Fox News )
The Lincoln Project member added, "But the one constant has been good ole Senator Tim Scott, the lone Black Republican in the Senate."
She then trashed his character even more, claiming that even though she "respects his biography" and "life story" as a Black conservative, she can't respect him because of his support for Trump.
She said, "Listen. I respect Senator Scott's biography. His life story is great. It's the American dream and good for him. What I don't respect is the fact that, with that American story, with his experience, with even as a conservative – I'm still a conservative, I'm just not a Republican – that he would still, still support Donald Trump."
Setmayer mentioned how Scott maintained he would still support Trump running for president in 2024 even after he was impeached in connection to the January 6 riot.
She claimed, "I have no respect for someone that cannot take a firm position on where he stands on our democracy. On Donald Trump's existential threat to it."
CLICK HERE TO GET THE FOX NEWS APP
The self-described conservative added one final acerbic description of the lawmaker, quipping, "I mean, the 1990s called and they want their campaign video back. There's nothing extraordinary about what Tim Scott is doing. I mean, he's a big snooze and he has no chance. None whatsoever. Zip, zero."
Gabriel Hays is an associate editor for Fox News Digital.
I have been writing professionally for over 20 years and have a deep understanding of the psychological and emotional elements that affect people. I'm an experienced ghostwriter and editor, as well as an award-winning author of five novels.