Kentucky bank mass shooter planned out attack and intended to livestream, police say
Louisville gunman Connor Sturgeon planned out his massacre ahead of time and intended to livestream the crime, according to authorities.
Sturgeon, 25, began a livestream on Instagram and positioned the phone in his shirt pocket to capture the murders, according to police warrants.
"Messages and notes from the device were shown to have plans on how to conduct [the massacre]," according to a police investigator.
Sturgeon stormed into an Old National Bank location in downtown Louisville, Kentucky, killing four and wounding eight, including a police officer.
DEADLY LOUISVILLE BANK SHOOTING BODYCAM VIDEO RELEASED, OFFICERS' ACTIONS DESCRIBED AS 'HEROIC'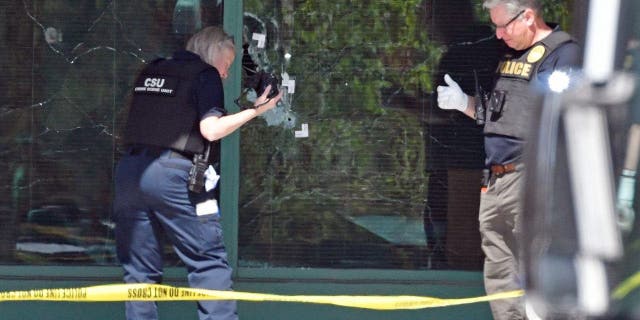 A Louisville Metro Police technician photographs bullet holes in the front glass of the Old National Bank building in Louisville, Kentucky. Connor Sturgeon, a man who opened fire at a Louisville bank, killing five co-workers, had confronted mental health problems over the last year, and the situation appeared to be managed until just days before the shooting, his mother said. (AP Photo/Timothy D. Easley, File)
At least one other officer suffered a minor injury, and the attacker was also killed, according to police. City leaders said officers arrived within three minutes and put an end to the carnage.
WHO IS LOUISVILLE BANK SHOOTER CONNOR STURGEON?
Slain victims included a personal friend of Gov. Andy Beshear, Tommy Elliott, 63, as well as Joshua Barrick, 40, Deana Eckert, 57, Jim Tutt, 64, and Juliana Farmer, 45. Eight people were wounded.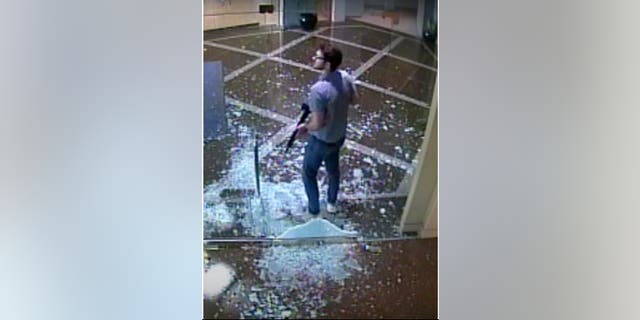 This image taken from surveillance video provided by the Louisville Metro Police Department shows bank employee Connor Sturgeon, 25, carrying an AR-15 assault-style rifle after opening fire at Old National Bank, in Louisville, Kentucky. (Courtesy of Louisville Metro Police Department via AP)
Police obtained access to the shooter's phone and personal data after sending warrants to Google, AT&T, Apple and Snap Inc.
The swift response of local police has been commended and credited with preventing further casualties.
CLICK HERE TO GET THE FOX NEWS APP
Caleb Goodlett, the husband of a bank worker, told the local CBS affiliate that his wife had called him from inside the vault, asking him to contact police.
When he did, the dispatcher reportedly told him that officers were already on the way.
Timothy Nerozzi is a writer for Fox News Digital. You can follow him on Twitter @timothynerozzi and can email him at timothy.nerozzi@fox.com
I have been writing professionally for over 20 years and have a deep understanding of the psychological and emotional elements that affect people. I'm an experienced ghostwriter and editor, as well as an award-winning author of five novels.