Johnson warns left has 'infiltrated' major US institutions as GOP warns of weaponization of government
EXCLUSIVE: Sen. Ron Johnson, R-Wis., says that the left have "infiltrated" major U.S. institutions and as a result control major narratives in ways that he says are destructive to the country as top Republicans are sounding the alarm about the alleged weaponization of the U.S. government.
"I think my main point is that the left has pretty well infiltrated the major institutions in this country, starting with our university system, and that just has metastasized out and so now they control the narrative and they're using their control, that narrative in I think very destructive ways," Johnson said in an interview with Fox News Digital on Friday.
Johnson spoke after he had testified at the Select Subcommittee on the Weaponizaton of the Federal Government on Thursday. The subcommittee was hearing from top lawmakers, FBI officials and legal experts about how the Justice Department has allegedly taken aim at the civil liberties of American citizens.
Johnson had warned that "corrupt individuals" within federal agencies are acting as "vital partners of the left-wing political movement that includes most members of the mainstream media, big tech social media giants, global institutions and foundations, Democrat Party operatives, and elected officials."
FORMER FBI SPECIAL AGENT NICOLE PARKER SAYS BUREAU BECAME 'POLITICALLY WEAPONIZED,' TRICKLED DOWN FROM HQ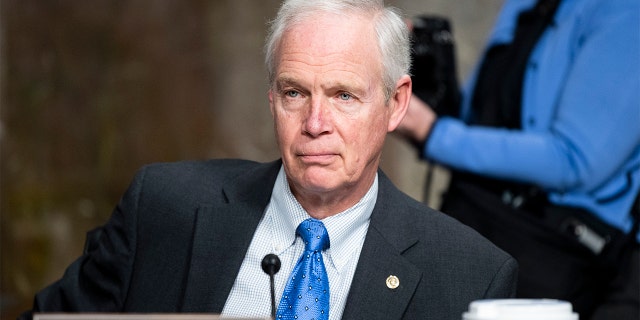 Sen. Ron Johnson, R-Wis. (Bill Clark/CQ-Roll Call, Inc via Getty Images)
Johnson said he had first seen such cooperation back in the Tea Party movement when the Obama administration was accused of weaponizing the IRS to deny groups tax-exempt status.
Conservatives have since pointed to FBI involvement in the investigation into alleged Russian involvement in the 2016 election — which Johnson described as "the most destructive political dirty trick in U.S. history — and then the narrative surrounding Hunter Biden's laptop and overseas business dealings, which was falsely dubbed by mainstream media outlets and former intelligence officials as a Russian misinformation operation.
Johnson has also claimed his investigation into Hunter Biden's business dealings were sabotaged in what he said was a coordinated effort by government organs. Speaking to Fox News Digital, Johnson described a "concerted effort by a number of actors to undermine and sabotage our efforts, calling it Russian disinformation."
He pointed to Sen. Chuck Grassley's remarks at the hearing, in which the senator described a "triad of disinformation and outright falsehoods" from the FBI, partisan media and some Democrats.
Johnson stressed to Fox that he was "not talking about the vast majority of men and women who perform their duties honorably, with Patriot patriotism with integrity. In the government."
"I'm talking about the corrupt individuals,' he said.
The conservative focus on the left-wing weaponization of government has increased with not only the Hunter Biden saga, but also the release of the Twitter Files — revelations from inside Twitter about its work with government agencies in recent years.
Johnson pointed to those revelations that showed how government officials moved to control the narrative related to the COVID-19 pandemic.
"With the release of the Twitter files and the Missouri and Louisiana lawsuit against the Biden administration, we are getting a clearer picture of how active government officials were in suppressing free speech and controlling the narrative," he said in his testimony.
STEFANIK SAYS 'ABUSE AND WEAPONIZATION' OF BIDEN FEDERAL AGENCIES MUST BE 'ROOTED OUT' BY GOP IN MAJORITY
Rep. Jim Jordan, chairman of the House Judiciary Committee, said on Thursday that in his time in Congress "I have never seen anything like this" and noted that the concerns were not only related to the FBI.
" Americans have concerns about the double standard at the Department of Justice. Americans have concerns about the Disinformation Governance Board that the Department of Homeland Security tried to form. Americans have concerns about the ATF and what they're doing to the Second Amendment. And, of course, they have concerns about the IRS and the thousands of new agents who are coming to that organization," he said.
TOP DEMOCRAT ON HOUSE WEAPONIZATION SUBCOMMITTEE BLASTS GOP-CREATED PANEL
"And finally, there are concerns about what we've learned in the Twitter files where big government, Big Tech colluded to shape and mold the narrative and to suppress information and censor Americans," he said.
Democrats on the committee pushed back, with subcommittee Ranking Member Rep. Stacey Plaskett, D-V.I., accusing Republicans of a "weaponization of Congress" and expressing concern that the subcommittee will be used "as a place to settle scores, showcase conspiracy theories and advance an extreme agenda that risk undermining Americans' faith in our democracy."
CLICK HERE TO GET THE FOX NEWS APP
The resolution creating the subcommittee states that the panel will investigate how the executive branch agencies "collect, compile, analyze, use, or disseminate information about citizens of the United States, including any unconstitutional, illegal, or unethical activities committed against citizens of the United States."
The resolution also notes that the subcommittee's work will include "a full and complete investigation and study" and a final report to be submitted by Jan. 2, 2025.
Brooke Singman is a Fox News Digital politics reporter. You can reach her at Brooke.Singman@Fox.com or @BrookeSingman on Twitter.
I have been writing professionally for over 20 years and have a deep understanding of the psychological and emotional elements that affect people. I'm an experienced ghostwriter and editor, as well as an award-winning author of five novels.