Israeli troops fatally shoot Palestinian teacher, militant during raid in occupied West Bank
Israeli troops shot and killed a Palestinian schoolteacher and a militant during a military raid in the occupied West Bank early Thursday, Palestinian officials said, the latest deaths as Israeli-Palestinian violence continues to surge.
The Palestinian Health Ministry identified the dead as Jawad Bawaqna, 57, and Adham Jabarin, 28. They were shot in the Jenin refugee camp in northern West Bank.
Bawaqna's school, the Hashad Secondary School for Boys, identified him as a physical education teacher and father of six. A statement from the school said Bawaqna left his apartment during the raid Thursday at dawn with two of his children to help provide first aid to Jabarin, who had been shot right outside his home.
US TRANSFERS MILITARY WEAPONS STOCKPILE FROM ISRAEL TO UKRAINE
An Israeli sniper killed him on the spot, the school said.
The Al-Aqsa Martyrs' Brigade — an armed militia affiliated with Fatah, the secular political party that controls the Palestinian Authority — claimed Jabarin as a fighter.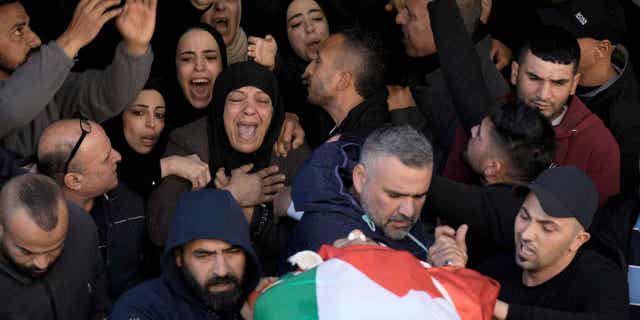 Palestinian women mourn for schoolteacher Jawad Bawaqna, 57, and Adham Jabareen, 28, during their funeral in the West Bank city of Jenin, on Jan. 19, 2023. Both of them were killed by Israeli troops.
(AP Photo/Majdi Mohammed)
The Israeli military said soldiers operating in the Jenin camp came under heavy fire and forces shot back. The military had no comment on the teacher's death, saying only that "hits were identified" — meaning that people were shot.
ISRAEL DEPORTS ITALIAN ACTIVIST AFTER SHE WAS DETAINED DURING A RAID IN THE OCCUPIED WEST BANK
Palestinian media also reported that the Israeli forces arrested a local official of the militant group Islamic Jihad in Jenin.
Tensions have soared in the West Bank, where the Israeli military has been conducting near-nightly arrest raids since last spring after a wave of Palestinian attacks against Israelis killed 19 people. Another 10 Israelis were killed in a second string of attacks later last year.
Israel says the raids are meant to dismantle militant networks and thwart future attacks. The Palestinians see them as further entrenchment of Israel's open-ended, 55-year occupation of lands they seek for their future state.
Thursday's deaths put at 17 the number of Palestinians killed by the Israeli military in the West Bank since the beginning of 2023.
CLICK HERE TO GET THE FOX NEWS APP
Nearly 150 Palestinians were killed by Israeli fire in the West Bank and east Jerusalem in 2022, according to figures by the Israeli rights group B'Tselem, making it the deadliest year since 2004.
Israel says most of the dead were militants. But Palestinian stone-throwers, youths protesting the incursions and others not involved in confrontations also have been killed.
I have been writing professionally for over 20 years and have a deep understanding of the psychological and emotional elements that affect people. I'm an experienced ghostwriter and editor, as well as an award-winning author of five novels.