Indiana legislators look to ban automatic fire-inducing 'Glock switches'
Indiana lawmakers have endorsed a bill making it illegal for anyone to possess devices for adapting a firearm into a machine gun.
The state Senate voted 45-4 Monday in favor of the proposal expanding state law to include so-called Glock switches that are already illegal under federal law. Police officials say such switches can convert a semi-automatic gun into one that shoots continuously while the trigger is pressed, firing dozens of bullets within a few seconds.
TENNESSEE LOOKS AT LOWERING PERMITLESS GUN CARRY AGE TO 18
Republican Sen. Aaron Freeman said such switches can be made on 3-D printers, endangering police officers and bystanders with "very little expense, with very little effort."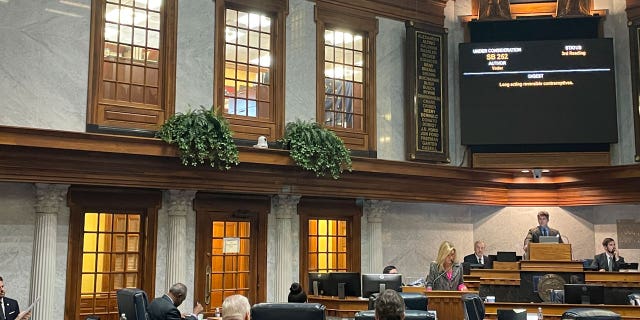 Indiana legislators are eyeing a ban on so-called "Glock switches," which are capable of triggering automatic fire from semi-automatic weapons. (AP Photo/Arleigh Rodgers)
The House voted last month to endorse a similar version of the bill. Democratic Rep. Mitch Gore, who is a Marion County sheriff's department captain, said the switches are leaving officers outgunned in some confrontations.
SWEEPING NORTH CAROLINA BILL THAT WOULD DISCARD GUN PERMITS, MENTAL EVALUATIONS HEADS TO GOV. COOPER
Supporters said the broader state law was needed so local police don't need to rely on federal prosecutors pressing charges in such cases. If approved, people with such gun switches could face felony charges under the state law making machine gun possession illegal.
CLICK HERE TO GET THE FOX NEWS APP
The House and Senate still must agree on a final version to send the bill to Gov. Eric Holcomb for his consideration.
I have been writing professionally for over 20 years and have a deep understanding of the psychological and emotional elements that affect people. I'm an experienced ghostwriter and editor, as well as an award-winning author of five novels.