French city believes Madonna may own painting lost during WWI, asks for loan
Despite the distinction of being Emmanuel Macron's birthplace, Mayor Brigitte Fouré doubts that Madonna has heard of Amiens, a city in the north of France halfway between Paris and Lille. However, on Monday, Fouré revealed a connection and asked the singer to consider loaning the city a painting it lost during World War One as it attempts to become a 2028 European Capital of Culture.
The work – "Diana and Endymion" by French Neoclassical painter Jérôme-Martin Langlois – depicts the Roman goddess of the hunt enamored with a shepherd of unsurpassed beauty. It also has no ordinary history.
Completed in 1822, it was commissioned by Louis XVIII for the Salon of Diane at the Palace of Versailles. Acquired by the French Republic in 1873, the painting hung in a museum in Amiens until 1918, when the Germans heavily bombed the city.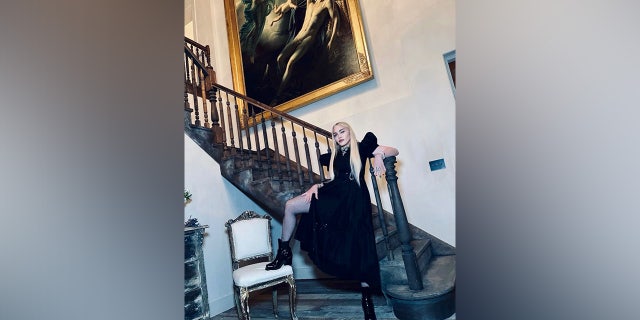 Madonna poses in front of what is believed to be Langlois' Diana and Endymion.
(Madonna via Instagram)
At that point, the painting vanished and was feared to be destroyed.
PARIS PREPARES EIFFEL TOWER TRIBUTE TO MAHSA AMINI AS PROTESTS CONTINUE
French daily Le Figaro reported Monday that the painting, or a nearly identical one, reappeared and went on sale at an auction in New York in 1989 where Madonna paid $1.3 million for it.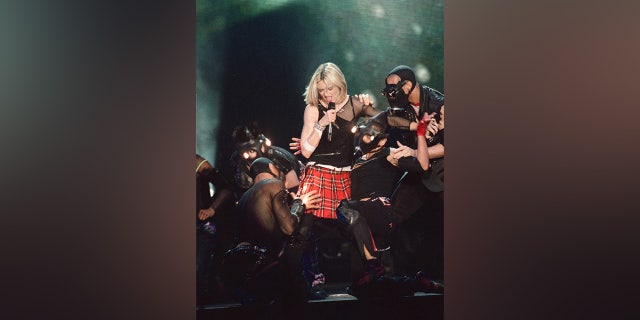 Pop star Madonna performs on stage during a concert on June 26, 2001, in Paris, France.
(Patrick Davy/Prestige)
FRANCE TO PUSH 'MADE IN EUROPE' STRATEGY AT EUROPEAN UNION SUMMIT
A curator from Amiens only noticed it in 2015 in the background of a photo of Madonna in her home that was published in Paris Match magazine, according to the Guardian.
"This painting is probably a painting that had been lent by the Louvre to the museum in Amiens before the First World War and of which we had then lost track," Fouré explained.
Since the painting is 3 cm smaller than the artwork which disappeared in 1918, there are some doubts as to whether it is the original. However, experts have hypothesized that the discrepancy in size is due to the signature and date on the painting being removed.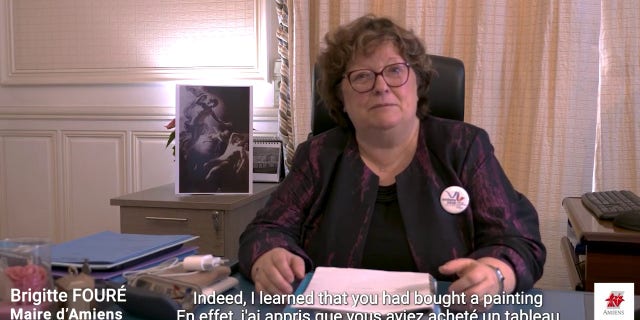 Mayor Brigitte Fouré urged residents of Amiens to share her message to Madonna.
(Brigitte Fouré via Facebook)
The museum in Amiens has lodged a legal complaint of theft against persons unknown, but according to Fouré, this shouldn't concern Madonna.
"We won't dispute in any way the legal acquisition that you made of this work. But be aware that we are candidates to be the European Capital of Culture in 2028. So, I would like, if on this occasion, in 2028, you could lend us your painting so that the inhabitants can rediscover this work and enjoy it," Fouré said.
The European Union will announce the 2028 European capital of culture this year. The initiative allows cities selected to receive EU support in organizing a yearlong celebration of art and culture. It has been known to help cities develop in a number of ways, economic or otherwise.
CLICK HERE TO GET THE FOX NEWS APP
Madonna has yet to respond to the request. Tuesday, the singer announced plans for a worldwide tour which would celebrate the entirety of her career. 2023 marks the 40th anniversary of the release of the singer's first studio album, "Madonna."
Jeff Zymeri is a Digital Production Assistant for Fox News and Fox Business. Find him on Twitter @jeffzymeri
I have been writing professionally for over 20 years and have a deep understanding of the psychological and emotional elements that affect people. I'm an experienced ghostwriter and editor, as well as an award-winning author of five novels.