Female Army commander faces wild claims she forcefully kissed, groped male troops
A female Army officer is facing an investigation over allegations of multiple sexual assaults of male subordinates and an overall pattern of sexual harassment in the workplace.
Col. Meghann Sullivan, who commands the Army's 5th Security Force Assistance Brigade, has been accused of forcefully kissing a male subordinate and grabbing another below the belt without his consent.
The commander, who is the first woman to lead a SFAB battalion, is also accused of sexually harassing several other male subordinates, according to a Military.com report Tuesday.
It is unclear whether the investigation into Sullivan is ongoing, while the embattled officer appears to still be in command of the battalion, according to the report.
CONCERNS GROW AS US MILITARY FACES RECRUITMENT CRISIS FOR SECOND YEAR IN A ROW: 'CULTURAL ROT' IS SPREADING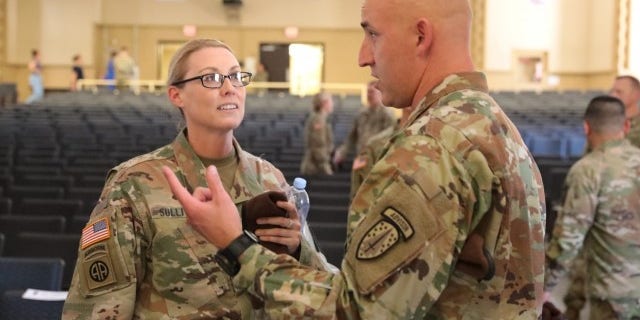 U.S. Army Col. Meghann Sullivan, left. (U.S. Army)
"We have no information on that matter that we can share at this time," Security Force Assistance Command spokesperson Sgt. 1st Class Adrian Patoka told Military.com. "We take any and all allegations seriously and handle them appropriately as circumstances dictate."
The reported investigation comes as the Army has battled an epidemic of sexual harassment in its ranks for several years, though male victims only account for about 10%, or 14,000 cases per year, of unwanted sexual contact, according to Defense Department data. The amount of male victims is believed to be an undercount as a result of social stigma male soldiers face when reporting sexual assault allegations.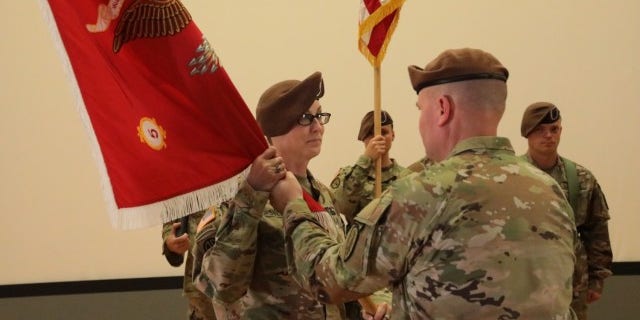 Army Col. Meghann Sullivan participates in a change of command ceremony at 5th Battalion, 5th Security Force Assistance Brigade. (U.S. Army)
TOP GUN MAVERICK: NAVY, AIR FORCE LOOK FOR RECRUITMENT BOOST FOLLOWING BIG OPENING FOR TOM CRUISE SEQUEL
The investigation also comes as Sullivan's boss, 5th SFAB Commander Col. Jonathan Chung, is the subject of a probe involving allegations he has displayed poor leadership and engaged in abusive treatment of subordinates.
Chung was suspended amid the investigation, according to Military.com. The outlet talked to over 20 of the commander's subordinates across multiple units, who almost universally detailed Chung's toxic leadership and inappropriate behavior.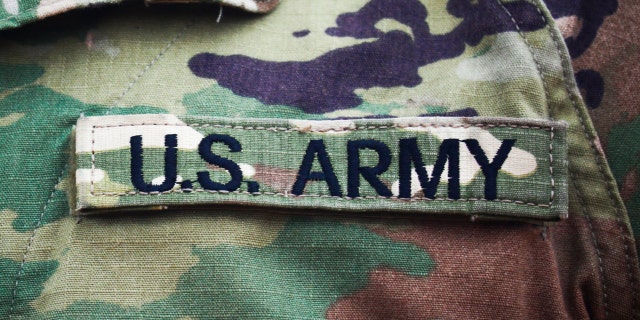 A U.S Army badge. (Photo by Beata Zawrzel/NurPhoto via Getty Images)
CLICK HERE TO GET THE FOX NEWS APP
U.S. Army Public Affairs did not immediately respond to a Fox News request for comment.
Michael Lee is a writer at Fox News. Follow him on Twitter @UAMichaelLee
I have been writing professionally for over 20 years and have a deep understanding of the psychological and emotional elements that affect people. I'm an experienced ghostwriter and editor, as well as an award-winning author of five novels.