'Duck Dynasty' star Missy Robertson slams behavior of library staff at Kirk Cameron event in Tennessee
"Duck Dynasty" star Missy Robertson gave a firsthand account of the "pushback" she, Christian actor Kirk Cameron and women's sports advocate Riley Gaines received from staff at a public library in Hendersonville, Tennessee, where they had planned a story-hour for children.
On the "Unashamed" podcast with Phil and Jase Robertson, Missy said library staff were disruptive as she and Cameron attempted to film marketing videos for their books before the Feb. 25 event. She described how staff members made loud noises and played music from behind the front desk after they had asked for about a minute of quiet to record their videos.
"[The lady at the front desk of the library] said, 'We're just trying to look for things to deal with our stress.' Stre— … what stress? … We're just standing there with a camera doing a marketing video," Robertson said. "That's when I turned my phone on. I started recording. I was like, 'This is blatant and ridiculous.'"
Cameron is on a national tour of public libraries to promote his children's book, "As You Grow," which shares biblical wisdom with kids and families. These events are a direct response to "drag queen story hours," which have grown in popularity at public libraries across the country. Robertson, the author of children's book "Because You're My Family," and Gaines, who lives in the Hendersonville area, were invited to Cameron's event at the public library as special guests.
KIRK CAMERON RUNS INTO TROUBLE IN TENNESSEE AHEAD OF PATRIOTIC BOOK EVENT: 'NEGATIVE PUSHBACK'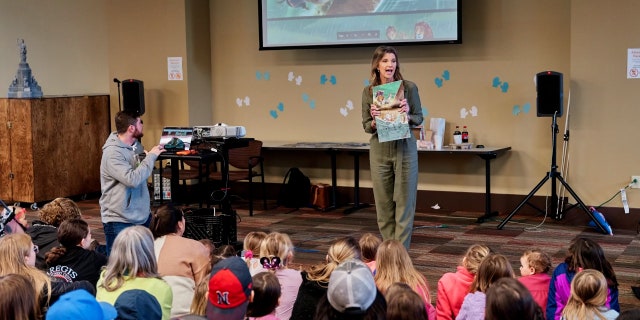 "Duck Dynasty" star Missy Robertson reads her book, "Because You're My Family," to children at a public library in Hendersonville, Tennessee. (Unashamed with Phil & Jase Robertson)
Cameron's publisher, Texas-based Brave Books, previously told Fox News Digital that a head official at Hendersonville Public Library had sought to cancel the event after he learned that many families with children were going to attend. Library officials initially said their facility could not handle a large-scale event, but they relented after the library's board of directors and the community pushed back on library staff.
Though the event happened as planned with an overflow crowd, Brave Books said the library staff "treated us terribly, unfortunately."
According to Robertson's account, "hundreds" of people with children were lined up outside, in the rain in February, to attend the event. She expressed anger that these families were not permitted to wait inside, where it was dry and warm.
"Not only were they rude to us … they were super rude to their entire community that lived there in Hendersonville, Tennessee, because that is a public library and they could have invited all those people who were standing in the rain to come and form lines inside the library, down the aisles, sit on the ground," Robertson said. "We weren't even reading in the library part, we were down the hall in a conference room. They wouldn't let them in. They made them stand outside in the freezing cold with their children in the rain. Total rudeness to me."
TENNESSEE MAYOR PRAISES KIRK CAMERON FOR 'EXCEPTIONAL' FAMILY PROGRAM AND MESSAGE AT PUBLIC LIBRARY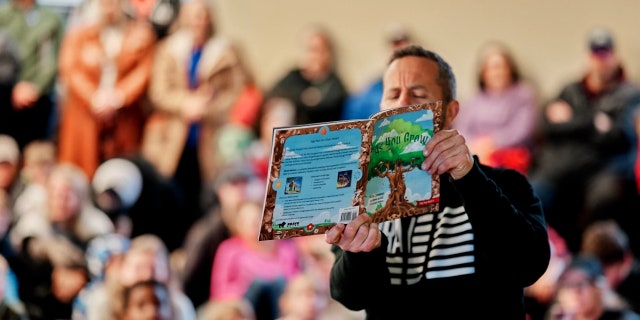 Kirk Cameron has been holding events at a variety of public libraries across America over the past few weeks and months. His tour is continuing through March and April 2023. (Unashamed with Phil & Jase Robertson)
Hendersonville Public Library did not immediately respond to a request for comment.
Although there was "negative pushback," Cameron said he was happy for the opportunity to address hundreds of families at his event with messages of faith, family and country — and that this is all part of his effort to "take back the hearts and minds of America's children."
He told Fox News Digital, "Many public institutions have been infiltrated with individuals who intentionally silence wholesome movements like ours — while families are crying out for a return to the faith-based virtue and American values that lead to our blessing and protection."
Robertson was dismayed that an event promoting faith-based values got negative pushback.
KIRK CAMERON, RESPONDING 'TO THE CRIES OF PARENTS' WHO FEEL 'BULLIED,' IS HEADED TO MORE PUBLIC LIBARIES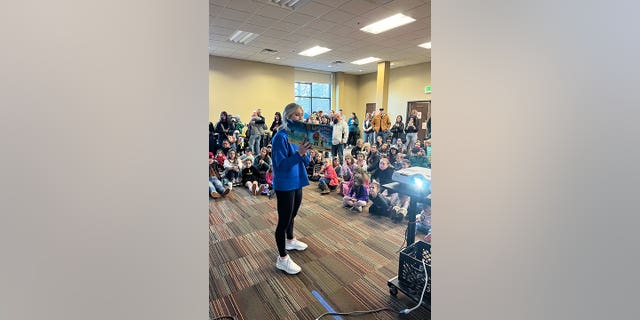 Children's Book Reading & Prayer Event took place in Hendersonville, Tennessee, on Feb. 25, 2023. (Brave Books/Kirk Cameron)
"This is not in California or New York City. This is in Nashville. People are moving to Nashville and the surrounding areas to get away from this stuff," she said on the podcast. "It's not just happening in, quote, 'liberal' areas. They're coming for your kids!"
Reached for comment, Hendersonville Mayor Jamie Clary told Fox News Digital that library employees are county employees, and that the mayor's office has no authority over them. He touted Hendersonville's status as a faith-based community, observing that, "very often, the first question asked of a Hendersonville newcomer is 'Do you have a church home yet?'"
CLICK HERE TO GET THE FOX NEWS APP
He said he would invite Cameron, Robertson and Gaines to return and see the rest of the city.
"If they would like to attend a city board meeting, they would be welcome to lead us in the pledge and prayer—our typical opening. Usually, I invite a local pastor to provide the prayer; other times our board members do it," Clary said. "Three years ago, I received a letter from a national organization protesting the prayers at our meetings. I threw the letter in the trash."
Fox News' Maureen Mackey contributed to this report.
Chris Pandolfo is a writer for Fox News Digital. Send tips to chris.pandolfo@fox.com and follow him on Twitter @ChrisCPandolfo.
I have been writing professionally for over 20 years and have a deep understanding of the psychological and emotional elements that affect people. I'm an experienced ghostwriter and editor, as well as an award-winning author of five novels.