DeSantis shoots down media claims he supports 'blogger bill': 'Not anything that I've ever supported'
Florida Gov. Ron DeSantis criticized the media for using his image when covering a Florida Senate bill that aimed to force independent bloggers to register with the state, insisting that it is "not anything" he's "ever supported."
DeSantis commented on the bill in a press conference Tuesday following his State of the State address. The bill, which was introduced by Florida state Senator Jason Brodeur, originally made headlines on Thursday after it was reported that the bill "would require any blogger writing about government officials to register with the Florida Office of Legislative Services or the Commission on Ethics."
Although the bill was introduced by a Republican in the state Senate, various mainstream media outlets framed it using DeSantis' image while suggesting that he supported the measure. DeSantis pointed out that, contrary to the media narrative, he never expressed support for the bill and had no part in drafting it.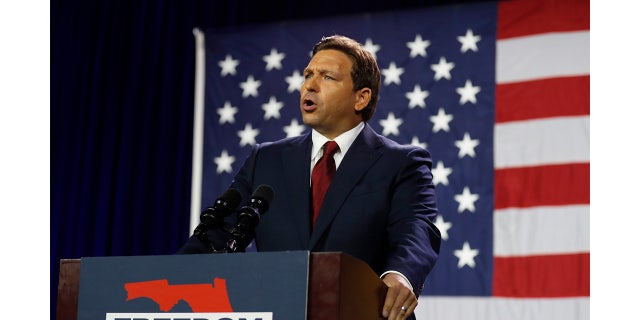 Florida Gov. Ron DeSantis gives a victory speech after defeating Democratic gubernatorial candidate Rep. Charlie Crist during his election night watch party at the Tampa Convention Center on November 8, 2022 in Tampa, Florida. DeSantis was the projected winner by a double-digit lead. ((Photo by Octavio Jones/Getty Images))
"Every person in the legislature can file bills. I see these people filing bills and there are these articles with my face on the article, saying 'bloggers are going to have to register with the state,' attributing it to me," DeSantis said. "That's not anything I've ever supported, I don't support. I've been very clear on what we are doing."
MLB SHOULD BOYCOTT FLORIDA UNDER DESANTIS, COLUMNIST CLAIMS: 'BASEBALL CAN NO LONGER IGNORE' CULTURE WARS
He continued, "People have the right to file legislation. They have the right to do different types of amendments and all that other stuff. But the Florida legislation, 120 of them in House and the 40 in the Senate, they have independent agency to be able to do things. I don't control every single bill that has been filed or amendment, so just as we go through this session, please understand that."
Prior to this comment, DeSantis' office did not clarify any support for the bill but instead said that it would be reviewed.
"As usual, the governor will consider the merits of a bill in final form if and when it passes the legislature," press secretary Bryan Griffin told NBC News.
However, several outlets continued to frame the bill as an idea of DeSantis' while also using his image.
An opinion piece by Trevor Timm on The Guardian covered the blogger bill with the headline "Ron DeSantis has his next target in his sights: freedom of the press" writing "Florida's rightwing governor and legislature want to gut one of the United States' most important first amendment rulings."
Vanity Fair correspondent Bess Levin penned an article on Tuesday referring to the bill as "Florida's DeSantis Blogger Bill" while suggesting that DeSantis was in favor of the measure despite not commenting on it.
"While Florida governor Ron DeSantis does not appear to have commented on the bill, he presumably supports it given his desire to crack down on the free press," Levin wrote.
HuffPost reporter Sara Boboltz's report on the bill on Saturday did not claim that DeSantis supported it, but noted, "Weeks earlier, Gov. Ron DeSantis (R) lamented how difficult it was to sue journalists in the United States." She did not include any reference to how his office was still reviewing the bill.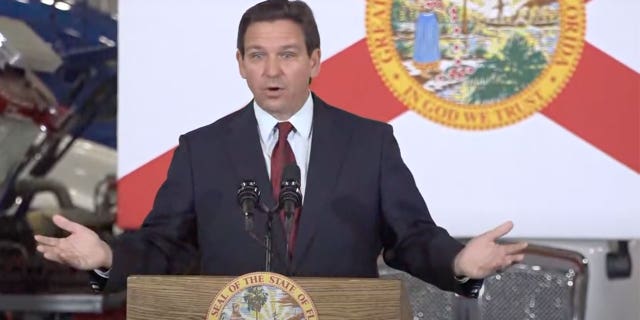 A local reporter was caught on a hot mic saying her job was to make Republican Florida Gov. Ron DeSantis "uncomfortable." (Screenshot/First Coast News)
THE UNEXPECTED WAYS FLORIDA'S ANTI-BLOGGER PROPOSAL ACTUALLY BENEFIT LIBERAL MEDIA
MSNBC correspondents and anchors were more critical of the bill and pushed the claim that this was part of DeSantis' plan and ideology.
While appearing on "Deadline: White House," Mehdi Hasan commented, "And the Desantises and Trumps are borrowing and inspiring from other abroad. And you look at the plan to register bloggers it is straight out of the Kremlin. The Russian government has done similar things."
Host Ari Melber also compared DeSantis to Vladimir Putin while claiming the blogger bill was, as critics claimed, "part of the larger DeSantis crusade against free speech and the press."
"Do you ever feel like we're watching a movie. The guy has the word 'truth' emblazed behind him while he tries to literally get the media to be registered and regulated and accountable to him. There is other separate censorship laws critics also say this, really in a very literal way, echoed Vladimir Putin's 2014 blogger law that forced those Russian bloggers to, wait for it, register with the government," Melber said.
On her show Monday, Reid commented, "The latest salvo from Florida governor Ron DeSantis and his war on all things woke looks to fulfill one long-time right-wing fantasy, stripping away press freedoms with repercussions that would extend far beyond Florida to a pair of new bills. One would require bloggers who write about elected officials to register with the state like lobbyists and disclose payments or be subject to fines. And another, H.B. 991, would make it easier to sue for defamation, lowering the bar for suing not just for journalists but anyone potentially making supposedly defamatory statements including over social media. Ron DeSantis has made no effort to hide his true intentions."
Fellow MSNBC host Al Sharpton also claimed, "DeSantis is saying I want to know where a blogger got $50 to write a blog against me. I mean, this is the kind of schizophrenia that has now become central in the body politic and I think we all have to jointly get rid of it. We could disagree, but we're going to have to unite to try and get some sanity back into the body politic."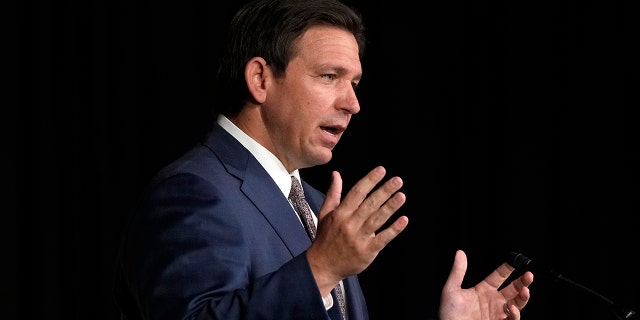 Florida Gov. Ron DeSantis speaks as he announces a proposal for Digital Bill of Rights, Wednesday, Feb. 15, 2023, at Palm Beach Atlantic University in West Palm Beach, Fla. (AP Photo/Wilfredo Lee)
CLICK HERE TO GET THE FOX NEWS APP
Several free speech advocates previously criticized the bill, calling it "unconstitutional" and "fundamentally un-American."
The Foundation for Individual Rights and Expression (FIRE) said that the bill is "an affront to the First Amendment and our national commitment to freedom of the press. It is difficult to imagine a legislative proposal more fundamentally at odds with our nation's founding spirit than requiring citizens and journalists to register their publications with the government under pain of fines."
Lindsay Kornick is an associate editor for Fox News Digital. Story tips can be sent to lindsay.kornick@fox.com and on Twitter: @lmkornick.
I have been writing professionally for over 20 years and have a deep understanding of the psychological and emotional elements that affect people. I'm an experienced ghostwriter and editor, as well as an award-winning author of five novels.