DeSantis press secretary leaves governor's office to join political operation
EXCLUSIVE: A top official in Ron DeSantis' gubernatorial office is stepping down to join his political operation, Fox News Digital learned on Monday, in yet another sign that the popular Florida Republican is eyeing a White House bid in 2024.
Bryan Griffin, press secretary for the Executive Office of Governor Ron DeSantis, is resigning to take on a new role as press secretary in DeSantis' political operation.
In his resignation letter obtained by Fox News Digital, Griffin said he is "stepping away from this role to pursue other avenues of helping to deliver the governor's success to our country."
"I believe that Governor DeSantis is the only leader who can see us to victory at this critical moment in American history," the Republican operative wrote. "If I can be even a small part of the revival and restoration of our great nation, then I am prepared to give it my all."
DESANTIS STEPS IN AND MEETS WITH VOTERS AFTER TRUMP CANCELS IOWA RALLY, CAUSING ONLINE FIRESTORM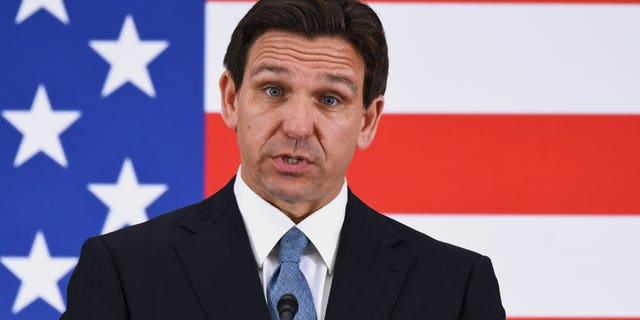 Florida Governor Ron DeSantis has been generating buzz for months as a potential 2024 presidential candidate. (Paul Hennessy/SOPA Images/LightRocket via Getty Images)
While he has yet to declare a White House run, DeSantis has amassed a sizable political war chest and drawn crowds to several out-of-state visits, particularly to early GOP primary states.
Most national polls show him as trailing former President Trump, but with a healthy lead over other Republicans who have already declared.
TRUMP, HALEY, DESANTIS? HERE'S EVERYONE RUNNING, RUMORED, OR SITTING OUT THE GOP 2024 PRESIDENTIAL PRIMARY
DeSantis was in Iowa over the weekend at a fundraiser hosted by Rep. Randy Feenstra, R-Iowa, and later made an unannounced stop in Des Moines after severe tornado warnings forced Trump to cancel a planned rally there that night.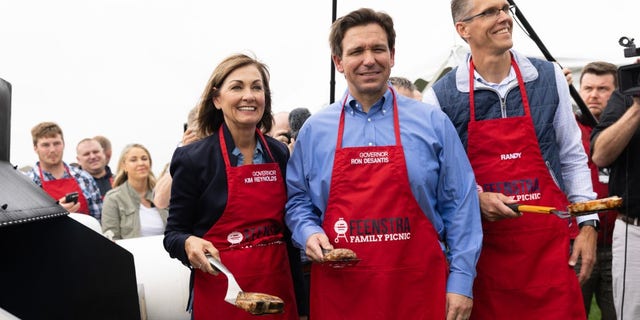 From left, Iowa Gov. Kim Reynolds, Florida Gov. Ron DeSantis and Congressman Randy Feenstra flip meat on the grill for a photo op during the annual Feenstra Family Picnic at the Dean Family Classic Car Museum in Sioux Center, Iowa, on Saturday, May 13, 2023. (Photo by Rebecca S. Gratz for The Washington Post via Getty Images)
Griffin is among DeSantis' most visible operators, defending the governor online with biting social media replies and refuting attacks on his agenda by critics.
In his departure letter, Griffin highlighted "important achievements" by DeSantis including legislation cracking down on ESG regulation, DEI initiatives, and having "rejected politicized education."
FORMER TRUMP ADVISER ENDORSES RON DESANTIS FOR PRESIDENT
"All of these things that Governor DeSantis has accomplished in Florida can be replicated nationwide," Griffin wrote. "However, our nation is currently burdened with historic challenges. This includes a national demoralization and abandonment of our shared values and purpose."
"We can build, achieve, and do great things as a country again, but we must first believe that. This defeatist attitude is owed to institutions that have been captured and gutted by ideological extremists, a rogue and untamed federal bureaucracy that fosters dependency, and a toxic trend in politics that ignoring fixable problems is somehow acceptable in the name of ideology," he wrote.
CLICK HERE TO GET THE FOX NEWS APP
DeSantis' previous press secretary, Christina Pushaw – also known as fierce defender of the governor on Twitter – had similarly left the post last August to join his political operation as its rapid response director.
Elizabeth Elkind is a politics reporter for Fox News Digital.
I have been writing professionally for over 20 years and have a deep understanding of the psychological and emotional elements that affect people. I'm an experienced ghostwriter and editor, as well as an award-winning author of five novels.