Democrats turn climate change into the next mental health crisis
House Democrats are warning that the impending climate crisis they have been predicting for years means more than rising tides, devastating storms and economic upheaval – it also means a growing mental health crisis for young Americans as they learn about and prepare to face these challenges.
Rep. Mike Thompson, D-Calif., introduced a resolution that calls on Congress to take aggressive steps to "protect the mental health and well-being of current and future youth" in light of the likely climate disaster that he and other Democrats believe will occur in their lifetimes.
"Youth represent a particularly vulnerable group because greenhouse gases emitted into the atmosphere will impact today's and tomorrow's youth throughout their biological, psychological, academic, and social development," the resolution states. "Youth are especially vulnerable to the physical and mental health impacts of climate-related disasters and the cumulative toll youth will endure from additional exposure to increasing climate-related disasters."
JOHN KERRY RUSHES TO DEFENSE OF CLIMATE ACTIVIST LEADERS WHO USE PRIVATE JETS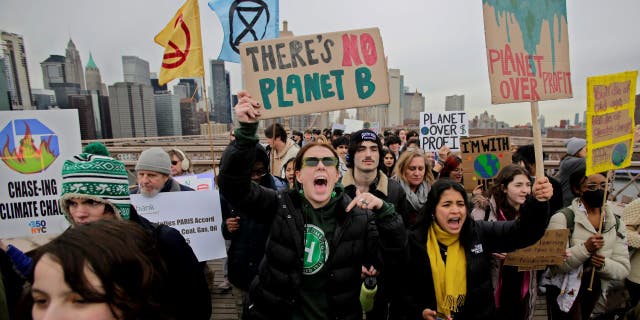 People walk through the Brooklyn Bridge during a strike for climate on March 03, 2023 in New York City. Protesters demand New York State support found and pass the Climate Jobs, and Justice Package. (Photo by Leonardo Munoz/VIEWpress/Corbis via Getty Images)
Thompson's bill notes that a study from the American Public Health Association and ecoAmerica shows that nearly half of America's youth has "developed depression after a climate-related disaster." Based on the expectation that these disasters will increase in number, Thompson says Congress must act to bolster the mental health of young Americans.
His resolution calls for additional funding for climate education, "resilience" and other projects that "benefit the mental health and well-being" of young Americans. That includes the addition of "trauma-informed approaches to mental health" into disaster preparation efforts.
He is also seeking more funding to school districts to help children cope with the "mental health effects of continued climate-related disasters."
CCP-BACKED TECH COMPANIES ARE POISED TO CASH IN ON BIDEN'S CLIMATE BILL, NATIONAL SECURITY EXPERTS WARN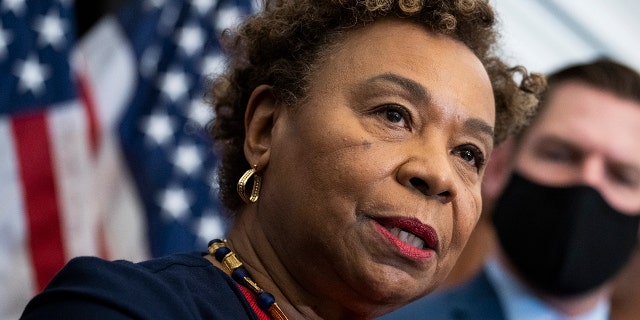 Rep. Barbara Lee, D-Calif., proposed a resolution that calls for climate change education, but also more mental health services for kids coping with climate change. (Tom Williams/CQ-Roll Call, Inc via Getty Images) (Tom Williams/CQ-Roll Call, Inc via Getty Images)
Also this week, Rep. Barbara Lee, D-Calif., proposed her own resolution that calls for kids to be taught more about climate change at school. Lee said it would be a "massive disservice not to teach students today about the threat of the climate crisis—and to empower them with the education and tools they need to fight it."
Her resolution argues that children must be educated about the causes and effects of climate change, as well as potential solutions. Lee also agreed with Thompson that more mental health care is needed for kids as they take on this enormous task.
Her bill says Congress should encourage people who develop educational programs on climate change should also "address climate-induced trauma, acknowledging the growing impact of climate change on youths' mental health."
CCP-BACKED TECH COMPANIES ARE POISED TO CASH IN ON BIDEN'S CLIMATE BILL, NATIONAL SECURITY EXPERTS WARN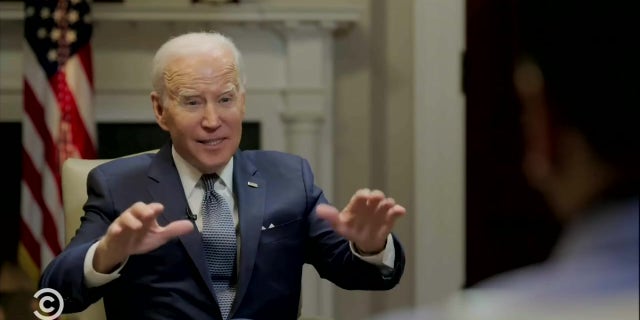 President Biden recently warned "a whole generation is damned" when it comes to climate change. (Screenshot/The Daily Show)
Her legislation also argues that climate disasters "threaten the physical and mental safety of students by keeping them out of school, damaging infrastructure, and exacerbating Adverse Childhood Experiences."
More than a dozen Democrats signed onto Lee's resolution, including Rep. Maxwell Frost, D-Fla., said that despite the doom-and-gloom scenarios about the future effects of climate change, children must be taught that this is not a guaranteed outcome.
CLICK HERE TO GET THE FOX NEWS APP
"The next generation of Americans are growing up in a world that feels like it's been predetermined for them," he said. "We cannot let that be the case when it comes to tackling climate change."
Pete Kasperowicz is a politics editor at Fox News Digital.
I have been writing professionally for over 20 years and have a deep understanding of the psychological and emotional elements that affect people. I'm an experienced ghostwriter and editor, as well as an award-winning author of five novels.