Democrats demand universal free breakfast, lunch, dinner, and a snack for kids in school
Dozens of Democrats in the House and Senate proposed legislation this week that would give all students from pre-school through high school three free meals a day plus a snack regardless of income, a move they said is needed to cope with the "record numbers" of American kids who are struggling with hunger.
The bill makes no mention of how the program would be funded or what it would cost. Many bills include language saying that Congress will appropriate whatever money is needed to fund a new program, or that funding will come from spending offsets or higher taxes.
"It is an international embarrassment that today, in the richest country in the history of the world, we are seeing record numbers of children and youth struggling with hunger on a daily basis," said Sen. Bernie Sanders, I-Vt., the sponsor of the Senate legislation.
"Universal school meals is not just commonsense policy; it is also extremely popular," said Rep. Ilhan Omar, D-Minn., the lead sponsor of the bill in the House. "Nearly 75% of Americans support permanent universal school meals — including the majority of Democrats, Republicans, and Independents. It's time to listen to the demands of our constituents and at long last make school meals free and universal for all kids."
HOUSE DEMS PUSH LEGISLATION TO KEEP SERVING SCHOOL LUNCH EVEN WHEN SCHOOLS CLOSE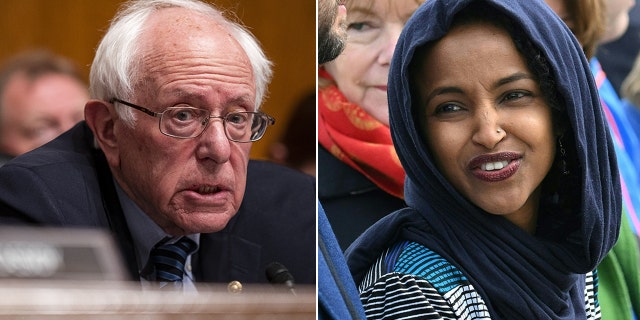 Sen. Bernie Sanders, I-Vt., and Rep. Ilhan Omar, D-Minn., are proposing free school meals for all students. (Al Drago/Bloomberg via Getty Images /MANDEL NGAN/AFP via Getty Images)
Democrats say their bill, the Universal School Meals Program Act, would help put an end to the "school lunch shaming" that is seen under the current program, which requires kids to show they are eligible for a free meal.
"Children have been publicly shamed for not being able to afford lunch, and as USDA reported, lunch shaming is a problem throughout the country, including withholding grades for school meal debt," according to a description of the bill. "Some schools resorted to heinous scare tactics to collect school meal debt; one school threatened to take away parents' children and another school marked children's skin with an 'I Need Lunch Money' stamp."
USDA HOPES $50M CAN MAKE SCHOOL LUNCH MORE 'APPETIZING,' 'APPEALING'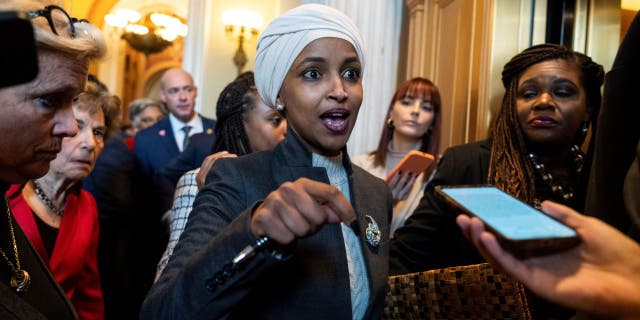 Rep. Ilhan Omar, D-Minn., has also proposed legislation to ensure school meals are served even when schools are closed. (Tom Williams/CQ-Roll Call, Inc via Getty Images)
The bill also reimburses all schools for any delinquent school lunch debt that has accrued under the current system.
Democrats argue that by providing universal free meals to all students, the cost of providing these meals would fall. "Our bill puts an end to the burdensome application paperwork by no longer requiring a Free and Reduced Lunch Program application in order to participate in the program," according to the summary of the bill.
BIDEN ADMIN HOLDING SCHOOL LUNCH MONEY 'HOSTAGE' TO FORCE TRANSGENDER POLICIES, ACTIVIST PARENT SAYS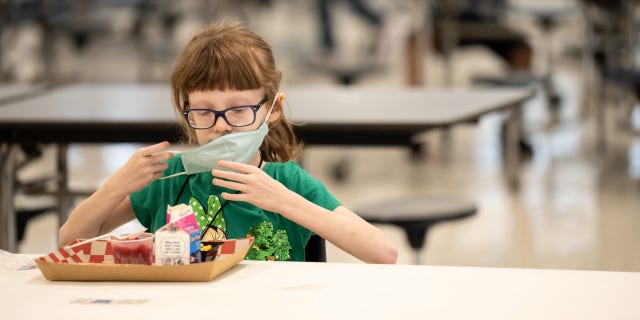 Democrats say COVID showed that universal and free school meal programs are possible and should be made permanent. (Jon Cherry/Getty Images)
Staff for both Omar and Sanders did not reply to questions about funding from Fox News Digital.
Democrats said the COVID-19 pandemic showed it makes sense to create a universal program that feeds all children, regardless of their economic circumstances. A statement from sponsors of the bill said offering schools the flexibility to deliver school meals to a wider range of kids helped tens of millions of kids stay fed and warned that the end of pandemic threatens that increased access.
CLICK HERE TO GET THE FOX NEWS APP
"What we've seen during this pandemic is that a universal approach to school meals works," Sanders said. "We cannot go backwards. It is time for Congress to pass this legislation to ensure no student goes hungry again."
Pete Kasperowicz is a politics editor at Fox News Digital.
I have been writing professionally for over 20 years and have a deep understanding of the psychological and emotional elements that affect people. I'm an experienced ghostwriter and editor, as well as an award-winning author of five novels.