Chase Koepka's hole-in-one sends LIV Golf fans into beer-tossing frenzy at Adelaide
When Chase Koepka, the brother of major tournament winner Brooks Koepka, hit his ace at LIV Golf's tournament in Adelaide, Australia, on Saturday, pure pandemonium ensued on the tee box.
Think 16th hole at TPC Scottsdale during the Waste Management Phoenix Open.
The crowd, and fans watching at home, knew Koepka loved his tee shot as he stared it down on the par-3 12th hole, which was nicknamed "The Watering Hole." Many patrons would grab a few refreshing beverages and post up there to see if anyone can come close to the rare hole-in-one.
CLICK HERE FOR MORE SPORTS COVERAGE ON FOXNEWS.COM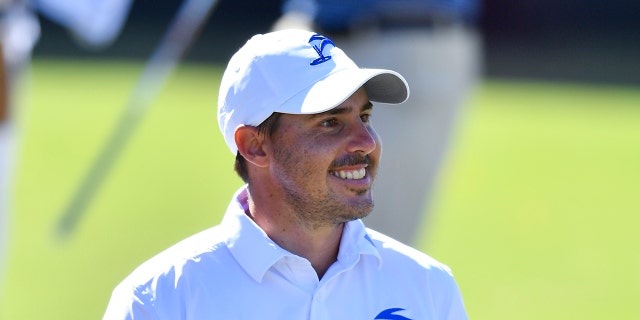 Chase Koepka walks to the green after his hole-in-one during the LIV Golf Adelaide at The Grange Golf Course on April 23, 2023, in Australia. (Mark Brake/Getty Images)
The same happens during the Phoenix Open at TPC Scottsdale, as fans rush to the 16th green to get a spot in the stands where cheering is encouraged while golfers are about to hit their ball, which is obviously not normal anywhere else in the game.
Koepka was hoping to turn those cheers into roars at The Grange Golf Club with his ball striking the 12th hole green firmly before darting right toward the hole. The ball slowly trickled its way to the flagstick and the anticipation was at its peak with everyone not breathing, waiting to see if it fell in.
VIRGINIA GOLF COURSE GM ARRESTED AFTER ALLEGEDLY FILMING INSIDE WOMEN'S RESTROOM FOR SEVERAL MONTHS: POLICE
Once it did, the scene was wild.
Koepka spiked his 9-iron into the tee box, and if a fan had a beverage in hand, it was likely thrown in the direction of Koepka.
Glasses and bottles sprayed Koepka and his caddy who celebrated for awhile with the crowd doing the exact same. Even Ian Poulter and Paul Casey, who were in Koepka's group, began celebrating with him as well.
"I smelled like beer the whole entire rest of the day," Koepka told Golf Digest around his round. "Yeah, it was wild. Crazy experience. I mean, obviously to do it on a hole like that was super special."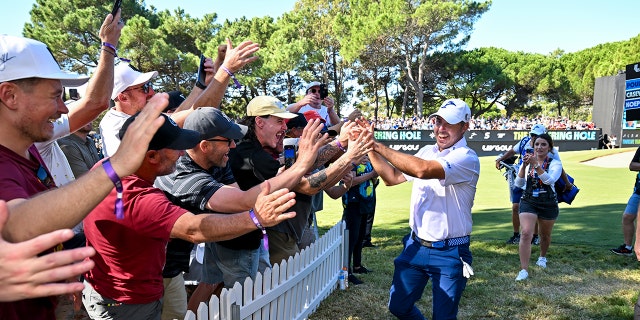 Chase Koepka celebrates his hole-in-one with the crowd on the 12th hole during LIV Golf Adelaide at The Grange Golf Course on April 23, 2023. (Mark Brake/Getty Images)
The turnout at LIV Golf Adelaide has been one of the best to date, with one of the faces of the Saudi-backed tour, Phil Mickelson, loving every second of it.
"Yeah, this is really an example of what is possible and a new opportunity to present golf in a different way and have a different energy and a different feel," he said, via Daily Mail.
PGA TOUR PRO PATRICK CANTLAY RESPONDS TO MOUNTING PACE-OF-PLAY CRITICISM FOLLOWING MATT FITZPATRICK'S REMARKS
"I'm not saying it should happen every week, but what LIV Golf has provided is really a great alternative for the traditional ways of golf and the people here in Australia have embraced it."
The fans in Australia were showing love to Koepka for the rest of his round, as he saw an ovation on every hole after the 12th.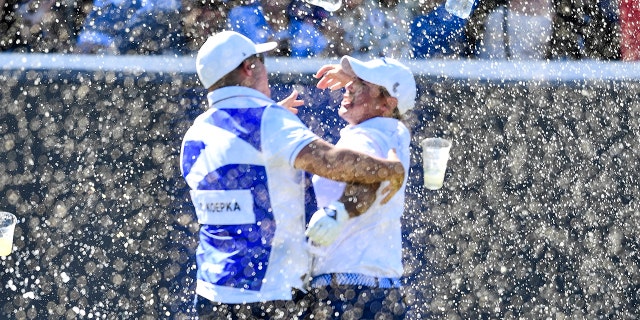 Chase Koepka celebrates his hole-in-one with his caddie while being showered with beer from the crowd on April 23, 2023, in Adelaide, Australia. (Mark Brake/Getty Images)
CLICK HERE TO GET THE FOX NEWS APP
"That's a once-in-a-lifetime experience," he said, via Golf Digest.
Scott Thompson is a sports writer for Fox News Digital.
I have been writing professionally for over 20 years and have a deep understanding of the psychological and emotional elements that affect people. I'm an experienced ghostwriter and editor, as well as an award-winning author of five novels.