California purse snatcher flees from restaurant, another suspect shoots at man: police
Three suspects are being sought in connection with a purse snatching at a Los Angeles-area restaurant where a victim was fired upon while fighting one of the alleged robbers, police said Wednesday.
The robbery happened as a man and three women were eating on the patio of a Culver City restaurant around 7:40 p.m. on May 14, the Culver City Police Department said. One suspect snatached a purse belonging to one of the women that was on the table and ran off, police said.
The man at the table chased the suspect and the pair engaged in a fight, police said.
CALIFORNIA TEEN DIES DURING SOCIAL MEDIA STUNT ON 6TH STREET BRIDGE: POLICE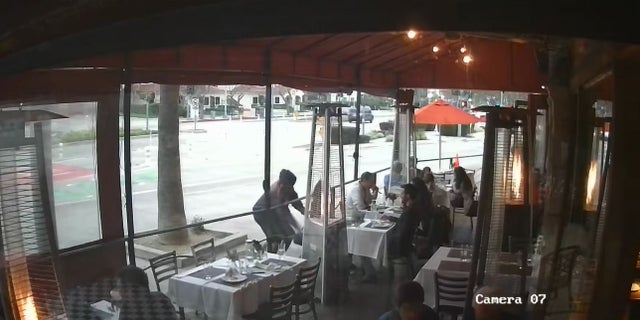 Surveillance footage shows an alleged purse snatcher taking a purse from a restaurant table before being chased down. Another suspect shot at a male victim who chased the robbery suspect, police said. (Culver City Police Department)
A getaway vehicle was parked nearby with the other two suspects. One suspect in the front passenger seat saw the fight and fired a shot at the male victim, police said.
The suspect engaged in the fight got into the vehicle and took off without the purse.
CLICK HERE TO GET THE FOX NEWS APP
Authorities said one suspect was a Black male, around 25 years of age and possibly 6 feet tall. The other two suspects were only described as Black males. The vehicle they fled in is a black four-door older model sedan.
It's unclear what type of weapon was used in the shooting.
I have been writing professionally for over 20 years and have a deep understanding of the psychological and emotional elements that affect people. I'm an experienced ghostwriter and editor, as well as an award-winning author of five novels.