Buttigieg brutally mocked over puff piece praising his 'cathedral mind': 'Can't believe this is real'
An article featuring bizarrely over-the-top praise of Transportation Secretary Pete Buttigieg came under intense mockery on Thursday.
The Wired story headlined "Pete Buttigieg Loves God, Beer, and His Electric Mustang" included lines from contributor Virginia Heffernan that had critics saying it was akin to North Korean state TV.
"Sure, the US secretary of transportation has thoughts on building bridges. But infrastructure occupies just a sliver of his voluminous mind," Wired wrote.
BUTTIGIEG POINTS TO HOW ROADS ARE 'DESIGNED AND BUILT' AS THE REASON FOR RACIAL DISPARITIES IN ROAD FATALITIES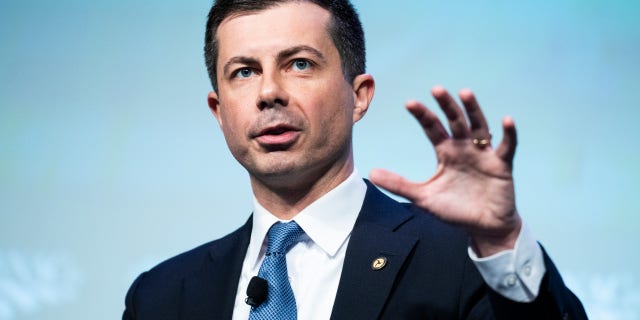 Transportation Secretary Pete Buttigieg speaks during the National Association of Counties 2023 Legislative Conference at the Washington Hilton on Feb. 13, 2023. (Tom Williams/CQ-Roll Call, Inc via Getty Images)
"As Secretary Buttigieg and I talked in his underfurnished corner office one afternoon in early spring, I slowly became aware that his cabinet job requires only a modest portion of his cognitive powers," Heffernan continued, in one of many sentences describing Buttigieg's massive intellect.
Buttigieg is also detailed as having a "curious mind" and a "cathedral mind."
The Transportation secretary and former mayor of South Bend, Ind., also talked about his love for burgers and driving.
REP. DELAURO PRAISES BUTTIGIEG'S PLAN TO SOLVE 'GENDER INEQUITY' BY PROMOTING FEMALE CRASH TEST DUMMIES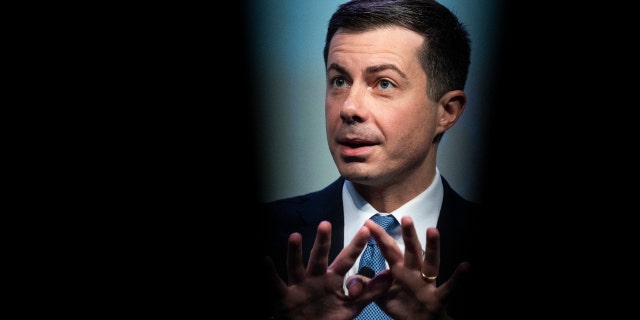 The Transportation secretary and former mayor South Bend, Indiana, also talked about his love for burgers and driving. ((Tom Williams/CQ-Roll Call, Inc via Getty Images))
"I'm thinking about burgers, right? I love a good cheeseburger. I hate a bad veggie burger. I like a good veggie burger. The Burger King Impossible Whopper with bacon is not a bad combo," Buttigieg said.
"Likewise, when it comes to driving," he added.
"I mean, there's a very literal, physical, technical sense in which power is at stake when you drive. It feels good to be driving a vehicle with a lot of power."
Buttigieg has enjoyed highly favorable news coverage over the years, including when he launched a bid for the 2020 Democratic nomination. Joe Biden mocked his lack of experience during the 2020 primary but eventually won his endorsement and gave him a Cabinet position.
GINGRICH TORCHES BUTTIGIEG: 'PERFECT SYMBOL OF INCOMPETENCY PROTECTED BY POLITICAL STANDARDS'
Journalists and political commentators took to Twitter to poke fun at the outlet's awed reporting on Buttigieg.
NewsNation reporter Zaid Jilani asked why the interview didn't focus on Buttigieg's job as Transportation secretary.
"Why did someone interview the Secretary of Transportation and ask almost no questions about transportation?" he asked.
Contributing editor at The Spectator, Stephen Miller, jokingly said Buttigieg was a "hyper brain intellect."
"His intellect is that of an autistic space alien. He is the flowers for Algernon of modern politics. We must bask in his hyper brain intellect. Also Joe Biden made fun of him during the campaign for not being able to fill pot holes, then made him choo choo train Secretary."
"Is this real or parody," Republican communications expert Matt Whitlock asked.
Newsweek opinion editor Josh Hammer took issue with the outlet's portrayal of Buttigieg's boss, President Biden, as a "robust" Catholic, in spite of his pro-choice beliefs.
"I suppose that would be the 'robust Catholicism' that leads Biden to now support limitless taxpayer-funded abortion, and the 'sincere effort to revive America's soul' that leads him to call half of America domestic terrorists.Regime media mouthpieces are absolute animals," Hammer wrote.
Another account joked that the Wired article was over the top, even by the standards of North Korean propaganda.
CLICK HERE TO GET THE FOX NEWS APP
"'Hey, let's tone it down a notch, Wired' – North Korean State TV," the user wrote.
Jeffrey Clark is an associate editor for Fox News Digital. He has previously served as a speechwriter for a cabinet secretary and as a Fulbright teacher in South Korea. Jeffrey graduated from the University of Iowa in 2019 with a degree in English and History.
Story tips can be sent to jeffrey.clark@fox.com.
I have been writing professionally for over 20 years and have a deep understanding of the psychological and emotional elements that affect people. I'm an experienced ghostwriter and editor, as well as an award-winning author of five novels.