Biden orders Ohio door-to-door checks more than 3 weeks after toxic train derailment
President Biden directed federal agencies on Friday to go door-to-door in Ohio more than three weeks after the toxic train derailment that has impacted the village of East Palestine.
Teams from the Centers for Disease Control and Prevention, Environmental Protection Agency and Federal Emergency Management Agency will visit residents starting on Saturday, asking how they're doing and what they need, and to connect them with resources from federal and nonprofit organizations.
The "walk teams" are modeled on similar teams following natural disasters.
The president directed members of those teams to get to as many homes as possible, with officials saying the immediate goal was to visit at least 400.
BIDEN STUMBLES THROUGH ANSWER OVER EAST PALESTINE VISIT: 'WHO'S ZOOMING WHO?'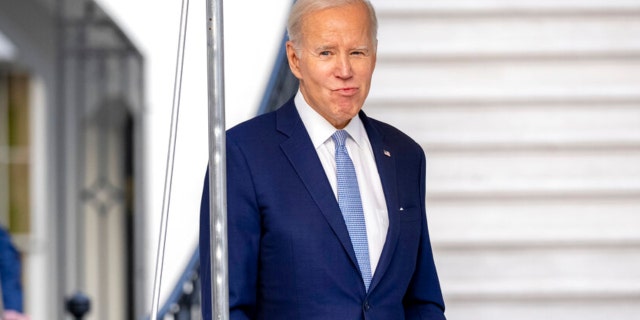 President Joe Biden walks toward members of the media before boarding Marine One on the South Lawn of the White House in Washington, Friday, Feb. 24, 2023, for travel to Wilmington, Delaware. (AP Photo/Andrew Harnik)
Biden currently has no plans to visit the community.
The order came as House Republicans have opened an investigation into the Feb. 3 derailment and response to the disaster.
On Friday, Biden also pushed back on claims that his administration hasn't been present in providing assistance.
"We were there two hours after the train went down. Two hours,″ he said "I've spoken with every single major figure in both Pennsylvania and in Ohio. And so the idea that we're not engaged is simply not there."
BIDEN SCOFFS AT EAST PALESTINE MAYOR WHO CLAIMED HE 'DOESN'T CARE' ABOUT TOWN AMID TRIP TO UKRAINE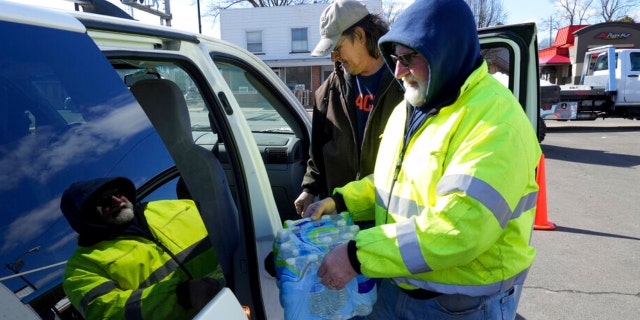 Volunteer Larry Culler helps load water into a car in East Palestine, Ohio, as cleanup from the Feb. 3 Norfolk Southern train derailment continues, Friday, Feb. 24, 2023. (AP Photo/Matt Freed)
The Feb. 3 Norfolk Southern derailment forced evacuations after an uncontrolled release and burn of vinyl chloride. The Ohio Department of Natural Resources said Thursday that nearly 44,000 aquatic animals were potentially killed as a result of the incident, and there were anecdotal reports of related illness in animals and humans. Officials have maintained that testing and monitoring have found the air and water to be largely safe.
During a Feb. 15 town hall following the incident, East Palestine Mayor Trent Conaway said he had not "heard anything from the White House" until Feb. 14.
One resident asked the mayor where Transportation Sec. Pete Buttigieg was, before the secretary and Environmental Protection Agency Administrator Michael Regan visited the area. The Department of Transportation has noted that the Federal Railroad Administration and Pipeline and Hazardous Material Safety Administration were on the ground within hours of the derailment and that the agencies were supporting the investigation being led by the independent National Transportation Safety Board.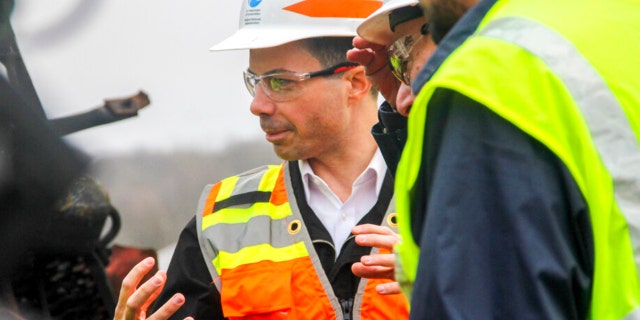 Transportation Secretary Pete Buttigieg tours the site of the Feb. 3, Norfolk Southern train derailment, Thursday, Feb. 23, 2023, in East Palestine, Ohio. (Allie Vugrincic/The Vindicator via AP, Pool.)
The GOP, including former President Trump, has heavily criticized the government's response, with some calling for Buttigieg's resignation.
CLICK HERE TO GET THE FOX NEWS APP
A timeline given by the White House said the Department of Transportation had provided "initial incident notification″ to members of the Ohio congressional delegation and relevant committees on Feb. 4 – when the EPA deployed real-time air-monitoring instruments around the wreck site and community – with staffers reaching out to Gov. Mike DeWine on Feb. 5.
The Associated Press contributed to this report.
Julia Musto is a reporter for Fox News and Fox Business Digital.
I have been writing professionally for over 20 years and have a deep understanding of the psychological and emotional elements that affect people. I'm an experienced ghostwriter and editor, as well as an award-winning author of five novels.