Attorney for Marine vet in chokehold death says 'multitude' of onlookers witnessed 'terrifying' situation
The attorney representing Marine veteran Daniel Penny in his second-degree manslaughter case following the death of a disturbed homeless man on a New York City subway said his client is not a racist and that there are a "multitude" of witnesses
Jordan Neely, who was mentally ill and reportedly acting erratically and harassing passengers on the train earlier this month, died shortly after Penny had placed him in and later released him from a chokehold.
Penny initially self-reported to police, but was released without charges – until New York County Democratic District Attorney Alvin Bragg decided to launch the criminal investigation.
On "The Story" Monday, attorney Thomas Kenniff said Penny is a "rock solid guy" who was put in a frightening and tenuous circumstance, as the state-operated MTA subway have become increasingly dangerous.
NEELY FAMILY ATTORNEY TORCHES PENNY'S FIRST INTERVIEW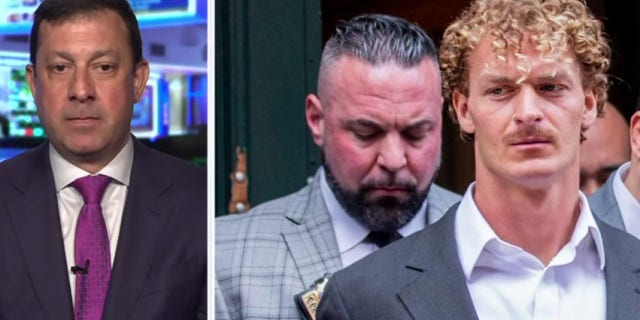 Thomas Kenniff, left, represents Daniel Penny, far right (The Story/Fox News)
"[Penny] was put into a situation that unfortunately is all too common on the streets and in the subway systems in New York City these days, but he did what he thought was the right thing to do," said Kenniff, who was also the 2021 Republican nominee against Bragg.
Penny regrets that Neely died following the incident but still stands by his actions, Kenniff said.
"That's not something he intended. It's not something he caused. So, you know, we thought that it was appropriate to, you know, have that message out," he said.
Kenniff said he has had good dialogue with Bragg's office on case and declined to respond to comments from Neely family attorney Donte Mills, who said Penny's apparent planned driving trip through Africa does not explain his actions.
In an extensive interview with the New York Post, Penny had rebuffed claims that race played a role in his decision to restrain Neely, saying ""I judge a person based on their character. I'm not a White supremacist."
DANIEL PENNY BREAKS SILENCE OVER JORDAN NEELY DEATH: 'HAD NOTHING TO DO WITH RACE'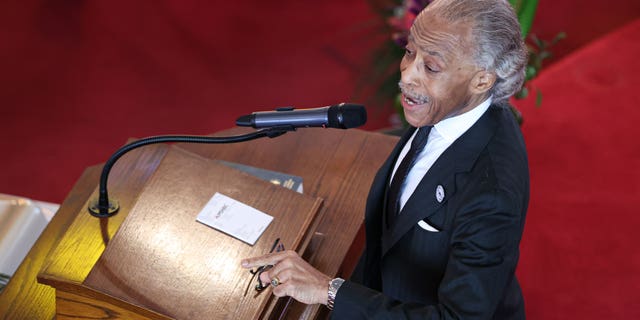 Al Sharpton speaks during the funeral of Jordan Neely at Mount Nebo Baptist Church in Harlem. (Lokman Vural Elibol/Anadolu Agency)
One of those claims came from Al Sharpton, who said Friday Penny is no "Good Samaritan" because the subject of the Biblical parable didn't "choke out" people.
"A Good Samaritan helps those in trouble, they don't choke them out. When they choked Jordan, they put their arms around all of us. All of us have a right to live," said Sharpton, who is also an MSNBC host.
When asked about Sharpton, Kenniff said he would not "go down the rabbit hole of getting into proxy shouting matches" with the preacher, as well as anyone on the right who might politicize the incident.
"There is nothing political about this case," said Kenniff. "This is a case of an everyday young man who was confronted with a difficult, frightening, terrifying situation and took appropriate steps to try to restrain someone who was a threat. There's really no question about that."
As for questions about Penny getting a fair jury trial in decided left-wing New York County, which is essentially coterminous with the borough of Manhattan, Kenniff said the jurisdiction is the best place for the case because there are likely many potential jurors who have found themselves in similarly harrowing subterranean situations.
"So many people that are going to be judging the facts will have will be able to relate to the sort of situation that confronted my client and the other passengers on that train," he said.
"There are a multitude of civilian witnesses – both those other individuals who got involved in the in subduing Mr. Neely and the bystanders on the train who to really talk almost uniformly about how frightening and how terrifying this situation was for them just being on the train and observing Mr. Neely's behaviors."
Charles Creitz is a reporter for Fox News Digital.
He joined Fox News in 2013 as a writer and production assistant.
Charles covers media, politics and breaking news, and has covered the annual CPAC conference for Fox News Digital.
Charles is a Pennsylvania native and graduated from Temple University with a B.A. in Broadcast Journalism. Story tips can be sent to charles.creitz@fox.com.
I have been writing professionally for over 20 years and have a deep understanding of the psychological and emotional elements that affect people. I'm an experienced ghostwriter and editor, as well as an award-winning author of five novels.