Alex Murdaugh fallout: mother of dead Buster Murdaugh classmate Stephen Smith to exhume body
The mother of Buster Murdaugh's high school classmate, Stephen Smith, who died in 2015 just miles from Alex Murdaugh's South Carolina hunting property, said she has raised enough money to exhume her son's body.
The 19-year-old was killed in what police initially described as a hit-and-run not far from the Murdaughs' Islandton hunting property called Moselle, where Alex fatally shot his wife, Maggie, and his youngest son, Paul, on June 7, 2021.
"We feel it's critical to seek a new goal – an independent exhumation and autopsy – and we're launching Justice for Stephen N. Smith with that immediate goal in mind," Smith's mother, Sandy Smith, wrote on a GoFundMe page titled "Independent Exhumation and Autopsy" that raised more than $40,000.
Smith recently told WYFF that the funds were enough to move forward with an exhumation.
ALEX MURDAUGH FALLOUT: MOTHER OF BUSTER MURDAUGH'S DECEASED HIGH SCHOOL CLASSMATE SEEKS INDEPENDENT AUTOPSY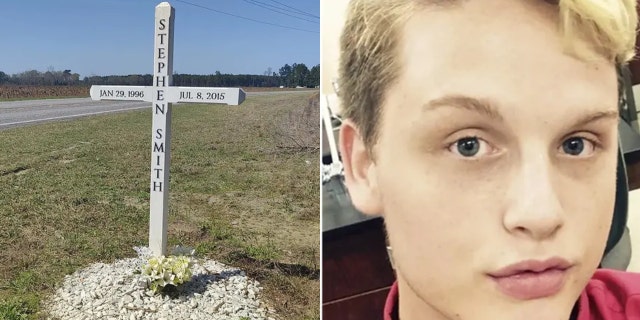 Stephen Smith's mother Sandy Smith says she has raised enough money to exhume her son's body. (Mark Sims for Fox News Digital/ Facebook)
"They said he was shot in the head. And then it turned out it was a hit-and-run and then he was beat up, so the story just kept changing," Smith told the outlet. "…When they told me hit-and-run, I said, 'That's impossible,' because Stephen wouldn't have been walking down the road. … He would've cut through the woods."
ALEX MURDAUGH FALLOUT: DEATH OF BUSTER MURDAUGH'S HIGH SCHOOL CLASSMATE BACK IN SPOTLIGHT AFTER VERDICT
In a Thursday update to her GoFundMe page, Smith said her family "will pursue the exhumation immediately and provide updates along the way."
The South Carolina Law Enforcement Division (SLED) has reopened an investigation into Smith's death.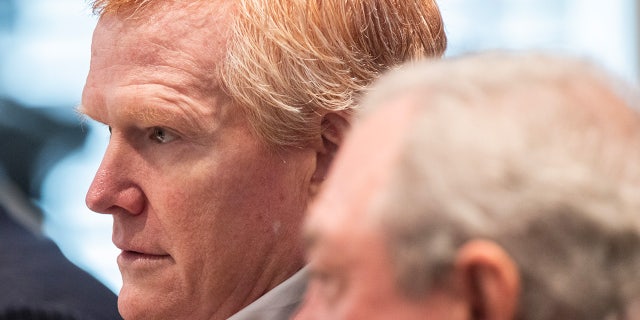 Alex Murdaugh listens to defense attorney Jim Griffin give his closing arguments in Alex Murdaugh's trial for murder at the Colleton County Courthouse on Wednesday, March 1, 2023. (Joshua Boucher/The State/Pool)
"SLED has made progress in the death investigation of Stephen Smith, however this investigation remains active and ongoing," SLED told Fox News Digital in a statement.
PUBLIC DEMANDS ANSWERS IN SUSPICIOUS DEATH OF BUSTER MURDAUGH'S CLASSMATE AFTER FATHER ALEX'S CONVICTION
Attorney Eric Bland, who represents the children of the Murdaughs' late housekeeper, Gloria Satterfield — who died at the Murdaugh's Moselle home in an apparent 2018 fall — described the Murdaugh family's "long-rumored involvement" in Smith's death on "Fox & Friends" earlier this month.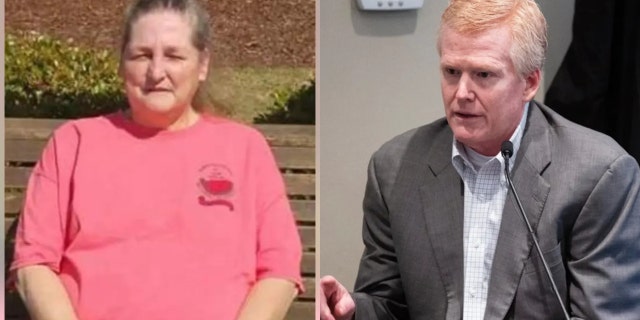 The Satterfields were able to recover a multimillion-dollar settlement from their mother's death that was rightfully theirs after Alex Murdaugh, right, allegedly stole it and even got an apology from the disgraced attorney, but they still want to "hold Alex accountable" for his other crimes, attorney Eric Bland said. (Brice Herndon Funeral Home/ Joshua Boucher/The State via AP)
"He was found in the middle of a country road in Hampton County, and … the highway department said he was hit by a car, but there was no broken glass, no car parts," Bland told co-host Pete Hegseth. "His clothes were intact, his shoes were on, and he had… a clear head trauma injury that looked like it was done by something other than a car."
ALEX MURDAUGH: TIMELINE OF ONCE-POWERFUL SOUTH CAROLINA LAWYER'S SPECTACULAR DOWNFALL
Alex Murdaugh "supposedly showed up on the accident scene, and according to [Smith's mother, Sandy], she received a telephone call from him where he offered to represent her, and she was very confused as to why she would need representation," Bland continued.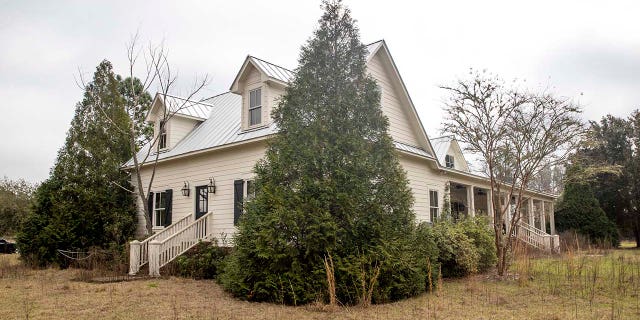 A view of behind the house at the Murdaugh Moselle property on Wednesday, March 1, 2023 in Islandton, South Carolina. (Andrew J. Whitaker/The Post and Courier/Pool)
Prosecutors say Murdaugh secured $4.3 million in insurance settlements for Satterfield's family after her death, but the former attorney kept the money for himself, never alerting the family that he had secured a payout.
CLICK HERE TO GET THE FOX NEWS APP
On March 2, a Colleton County jury found Alex Murdaugh guilty in the 2021 murders of his wife and son at Moselle, prompting suspicion about Smith's mysterious death.
Prosecutors say the disgraced lawyer killed his wife and son in an effort to divert attention away from his mounting alleged financial crimes.
Audrey Conklin is a digital reporter for Fox News Digital and FOX Business. Email tips to audrey.conklin@fox.com or on Twitter at @audpants.
I have been writing professionally for over 20 years and have a deep understanding of the psychological and emotional elements that affect people. I'm an experienced ghostwriter and editor, as well as an award-winning author of five novels.